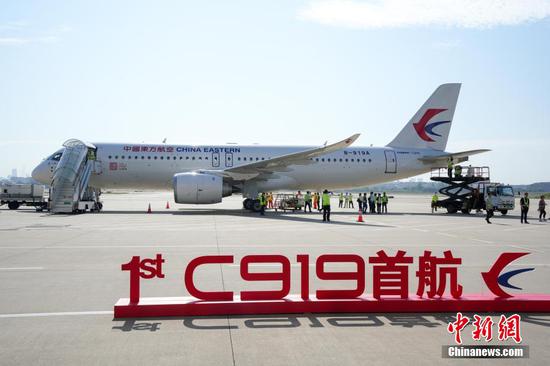 China's first homegrown large jetliner C919 makes its maiden commercial flight on May 28, 2023. (Photo/China News Service)
(ECNS) -- A C919 large passenger aircraft, China's first homegrown large jetliner, embarked on its first commercial flight on Sunday morning.
The flight, MU 9191, carrying about 130 passengers, soared into sky from Shanghai Hongqiao International Airport and will arrive at Beijing Capital International Airport about two hours and 25 minutes later.
The plane is registered as B-919A, with the logo of "THE WORLD'S FIRST C919" on the front part of the fuselage. The letter B represents the aircraft's Chinese nationality, and "A" means the first of its kind.
The C919 has 164 seats, with eight in business class and 156 in economy class.
Officially launched in 2009, the C919 program has undergone an extensive testing. Its maiden flight lasted approximately 1 hour and 19 minutes on May 5, 2017, showcasing its perfect capabilities.