Special: W.E. Talk 东西问 · 中外对话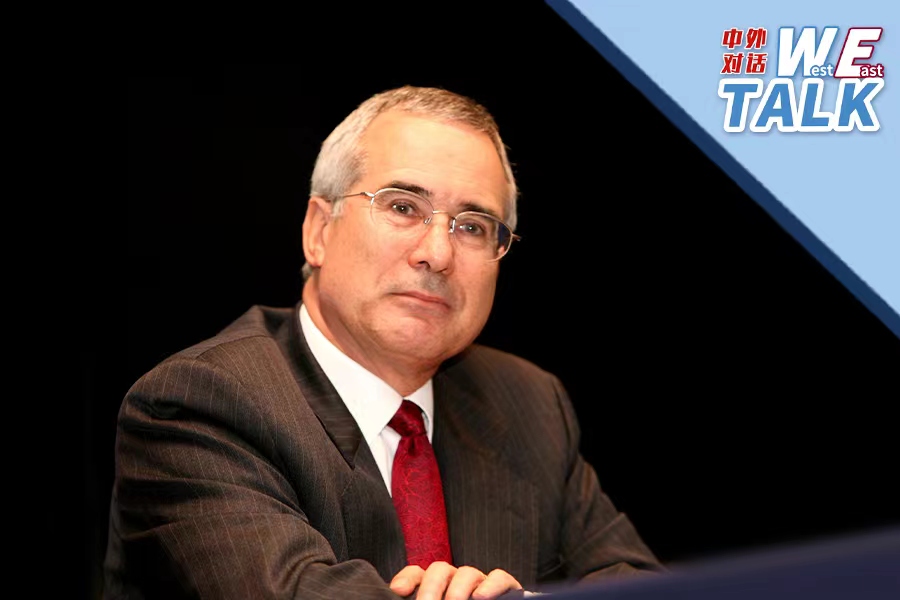 (ECNS) -- The frequent occurrence of extreme weather raises alarms again for the pressing need of global actions to address climate change, based on a latest report from IPCC. In addition, the pandemic of Covid has made it harder for middle- and low-income countries to tackle the climate issue. As the global weather conditions are worsening, where's global climate governance heading to? And how should the developed countries better cooperate with the developing counterparts? And why does China's "Dual Carbon" target demonstrate China's leadership on climate change?
In the latest W.E.Talk, Lord Nicholas Stern, Chair of the Grantham Research Institute talked to Liu Liang, journalist of China News Service, and shared his views on issues concerning global weather governance. With a remarkable report published in 2006, Stern was among the first to notice climate change's impact on global economy, marking a fundamental shift away from climate change being viewed primarily as an issue of science, to also being one of economics.
Stern observes that the pandemic has made every country exposed to global threats such as infectious diseases, biodiversity loss and climate change, so every country should realize the risks human beings are facing. He adds that more efforts should be made to enhance the cooperation between the developed countries and developing countries to better address climate change. And developed countries should fulfill the climate finance they pledge to developing countries.
Speaking of China's climate governance efforts, Stern believes that it's the time for China to demonstrate its leadership on climate change still further with its "Dual Carbon" target.
Here's an excerpt of the dialogue:
Liu Liang: Under UNFCCC, "Common but Differentiated Responsibilities" is an important cornerstone of global climate governance. Why is this principle so important for climate governance?
Nicholas Stern: The 1992 United Nations Framework Convention on Climate Change (UNFCCC) has pinpointed that developed countries should play a leading role in tackling climate change as they are historically responsible for a large part of the cumulative emissions since the Industrial Revolution, and they have the finance for the investment in climate change mitigation and adaptation. Despite the fact, it is still important to realize that all countries, rich and poor, need to take strong actions if we are to reach net zero emissions and stop further global warming.
It is also true that all countries will benefit from the transition to a sustainable, inclusive and resilient economic development mode. It was not sufficiently recognized in 1992 when it was considered in the original framework as a more expensive development mode. But currently, the situation is getting better.
Liu Liang: Climate finance is a tough issue that cannot be bypassed. Though developed countries have pledged an annual fund of $100 billion to developing countries by 2020, there is still a big gap to reach the first tranche so far. What do you think of it? How to better improve the climate finance mechanism between developed and developing countries?
Nicholas Stern: Rich countries have failed to deliver on their collective commitment to increasing financial support to developing countries to $100 billion by 2020. That is a breach of trust and should be corrected as soon as possible. The delivery plan produced by the governments of Canada and Germany ahead of COP26 indicates that the $100 billion target should be met in 2022 or 2023. But it is also important that richer countries should now cooperate with poorer countries to increase the investment in fields of sustainable development. All parties should focus on the financing structure and create environment of investment to help developed countries better fulfill their promises over the coming years.
Liu Liang: The Paris Agreement calls for the establishment of Intended Nationally Determined Contributions (INDCs) mechanism. However, bridging the gap between INDCs and the target of temperature control is still a tricky problem in the negotiations. Will INDCs undermine UNFCCC's foundation of "Common But Differentiated Responsibilities"? How should the gap be better bridged?
Nicholas Stern: The Paris Agreement commits countries to limit the global average temperature rise to well below 2°C above pre-industrial levels, to aim for 1.5°C, and to achieve Net-Zero Emissions in the second half of this century. Meanwhile, scientific research shows that the 1.5°C goal is of great significance for future climate issues. Currently, the Nationally Determined Contributions (NDCs) are not collectively consistent with these goals, so all countries need to work together to show the ambition of pledges and to deliver on them.
Liu Liang: From the Kyoto Protocol to the Paris Agreement, landmark breakthroughs have been made in global climate governance. What's your observation on the current and past role of China in climate governance?
Nicholas Stern: China has been increasing its action on climate change, particularly in the last couple of years with its commitments, for instance, to reach carbon neutrality before 2060 and to stop funding coal-fired power stations in other countries. China's example to other developing countries is critically important. Now is the time for China to demonstrate its leadership on climate change still further. If China can hit carbon emission peak before 2030, it will be easier to achieve carbon neutrality by 2060. And it would benefit both China and the world.
Liu Liang: With China's proposal of the "Dual Carbon" target, there are concerns that stable economic growth may be affected as some localities may take radical measures to reduce energy consumption. What's your idea about that?
Nicholas Stern: China's "Dual Carbon" target would allow China to achieve sustainable, inclusive and resilient economic growth. Low-carbon development doesn't contradict economic development. Pursuing low carbon goals can drive development forward in a stronger and better way. However, better management is necessary in the transition to a zero-carbon and climate-resilient economy to make sure that the costs of adjustment and the benefits of the new opportunities are fairly distributed between rich and poor, and among consumers, companies and governments. Workers in high-carbon businesses will be required to be re-trained and re-deployed in new companies. The transition can boost economic development and growth, and offer new opportunities and jobs. Investment in clean technologies and acceleration of the zero-carbon transition will pose massive economic opportunities for China and can further boost China's global competitiveness.
Liu Liang: It's been five years since the signing of the Paris Agreement. Have you changed your view on climate change after the pandemic? What would be the focus of work on climate change in the post-pandemic era?
Nicholas Stern: The impacts of climate change have grown and become much more obvious around us over the past six years. I also think that many countries can now see the attractiveness of an alternative form of economic development and growth that is more sustainable, inclusive and resilient. The pandemic has shown us all that every country is exposed to global threats such as infectious diseases, biodiversity loss and climate change. Every country should realize the risks we face, and the scale and urgency of investment we need to make in order to follow a more sustainable economic path. Investment aiming to recover the economy after the pandemic is the kind we need to realize sustainable, inclusive, and resilient growth.
Liu Liang: What do you think of the COP26 held in Glasgow? And what can we expect from the COP27 that is going to be held this year?
Nicholas Stern: There were a lot of significant developments at COP26, including a historic announcement by Prime Minister Narendra Modi of India of stronger actions over the coming decade and setting a target for net zero emissions by 2070. The joint declaration by China and the United States to cooperate on climate action was also hugely important. However, we also know that the revised NDCs submitted to COP26 are still not consistent with the goal of the Paris Agreement to limit the global average temperature rise to well below 2°C and to aim for 1.5°C. Rich countries also failed to deliver on their commitment to mobilize $100 billion a year by 2020 to support climate actions of developing countries. The developments at COP26 should lead countries to submit stronger emissions pledges by the end of 2022, and to work together on a new plan for climate finance that provides more funds for developing countries in the future.