(ECNS) -- Videos of senior Chinese citizens diving into the Haihe River in north China's Tianjin City have turned the locality into an overcrowded tourist destination.
Most of the divers are aged over 60. Despite their age, they have won widespread acclaim due to their professional diving skills, enthusiasm and vitality.
Affectionately known as Daye, these elderly male divers have attracted younger generations to follow suit at the Shizilin Bridge and Beian Bridge along the river, with the diving spots playfully referred to as "National 8A level tourist attractions" on social media.
In China, tourist attractions are graded into five tiers based on their quality, with 5A being the highest, representing world-class tourism destinations.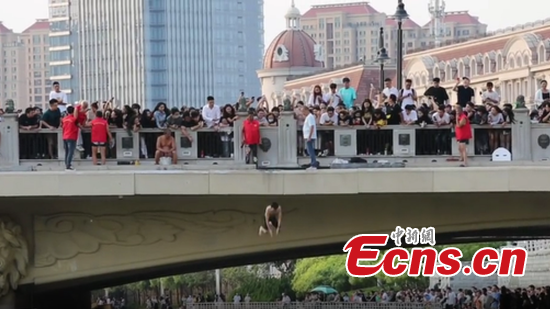 People gather on a bridge over the Haihe River in north China's Tianjin. (Photo/Screenshot from CNS Video)
Senior divers take netizens by storm
A member surnamed Xu in an amateur diving team, said that there are many such groups along the Haihe River, with the Shizilin Bridge one of the most popular.
"Many elderly people have been diving and swimming in the Haihe River since they were young, while some only started after retirement. The oldest diver in our team is in their eighties," he shared.
As these diving enthusiasts shot into fame, they attracted throngs of onlookers on the riverbanks.
Li, 67, boasts three decades of diving experience. Before retiring, he worked as a gardener. He highlighted the festive atmosphere surrounding the dives, with spectators offering encouragement.
"Everyone was laughing happily, and the atmosphere was great. One diver, in flower-patterned swimming trunks, introduced himself before jumping and welcomed tourists to Tianjin. I even took a photo with him," one spectator at Beian Bridge recalled.
Eager, young adventurers flock in
More young visitors are diving for the sake of taking photos at the Shizilin Bridge than local senior citizens who have been utilizing the spot for years.
A local college student surnamed Kang said, "I wanted to have a try and see if it is a stress reliever, even though I'm afraid of heights. Young people shouldn't suppress themselves; self-expression is essential.".
A Russian girl studying at a local university in Tianjin decided to give it a try after seeing videos of those adventurous senior citizens online.
However, when she climbed over the railing and looked down from the bridge, she realized the height was more intimidating than she had anticipated.
The girl summoned her courage after repeated hesitation and jumped into the water.
As the number of diversincreased, some experienced divers had to usemegaphones to maintain order.
"Many young people, driven by curiosity, take off their clothes to dive. There are foreigners, people in strange costumes, and even those wearing life jackets. It's all just for fun," a resident commented.
"At Shizilin Bridge, the height above the water surface is about 7.5 meters, and the water is six to seven meters deep, so it's safe to jump without hitting the bottom. However, occasional accidents may still occur," Li explained.
Balancing the thrills and safety
A diver surnamed Xu at the Shizilin Bridge, expressed concern about non-locals lacking proper training, stressing the fact that their reckless behavior poses a significant risk.
"The safest way is to take a step forward with one foot, free-falling, and immediately aligning both hands and feet. This minimizes the risk of accidents," Xu advised.
It's worth noting that the viral diving videos feature visible signs on the bridge that prohibit climbing, diving, and swimming.
Li admitted the presence of such signs but believes that most divers are experienced and that the activity is safe.
"Even though the bridge is fenced off, the management is relatively relaxed. Except during the flood discharge period, we still go diving," Li said.
Nearbypolice stations have recentlyincreased patrols to advise visitors to stay away from dangerous areas and persuade the elderly divers to prioritize safety.
Fu Jian, director of alaw firm in Henan, emphasized that if government agencies fail to take appropriate measures to prevent diving in dangerous areas, they may be held legally accountable.
"Onlookers should abide by public order and refrain from engaging in dangerous activities or encouraging others to do so. Those who encourage diving or participation in dangerous activities that lead to accidents may also bear legal responsibility," Fu added.
Professor Zhu Lijia from the National Academy of Governance mentioned thatthese seniors have been a part of the local community for decades, and that diving at the Haihe River has become a part of their lives.
"Diving, however, is not an activity suitable for everyone, which underscores the need for authorities to develop appropriate guidelines or standardized safety measures," he said.