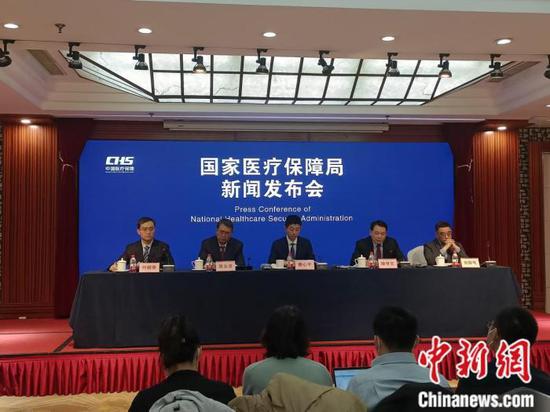 Photo shows a press conference held by the National Healthcare Security Administration on Jan. 18, 2022. (Photo/China News Service)
(ECNS) -- Adjustment of the 2022 national medical insurance catalogue is expected to save 90 billion yuan (about $13.28 billion) for patients in the next two years, said Huang Xinyu, an official of the National Healthcare Security Administration, on Thursday at a press conference.
According to Huang, a total of 111 drugs have been added to the 2022 medical insurance drug list, including 56 drugs for chronic diseases such as hypertension, diabetes, hyperlipidemia and psychosis, 23 for tumors, 17 for anti-infection, seven for rare diseases, two for COVID-19 treatment and six for other diseases.
Drugs covered by the national medical insurance has reached 2,967 after the adjustment, which is composed of 1,586 kinds of Western medicine, 1,381 kinds of Chinese patent medicine, and 892 kinds of Chinese herbal prescriptions.
A total of 147 drugs, including those hoping to extend their contract, joined in the negotiation and bidding, among which 121 reached agreements with the National Healthcare Security Administration, with an overall success rate of 82.3 percent.
The average price of newly admitted drugs through negotiation and bidding dropped by 60.1 percent, basically the same as 2021.