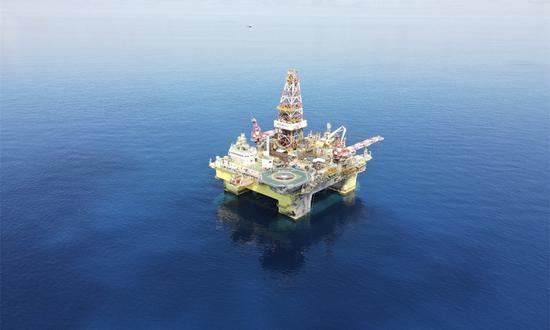 The "Baodao 21-1" gas field, China's first large deep-water deep-stratum gas field, in South China's Hainan Province. (Photo/CNOOC)
China discovered its first large deep-water deep-stratum gas field with proven reserves exceeding 50 billion cubic meters (bcm) in the sea southeast of Hainan Province, marking strong progress for the country in accelerating deep-sea exploration which will further ensure national energy security.
According to the China National Offshore Oil Corp (CNOOC), the gas field called "Baodao 21-1" achieved the biggest drilling breakthrough in the Songnan-Baodao area in more than 50 years.
In the fields that are the targets of offshore oil and gas exploration, waters with a depth of more than 300 meters are generally referred to as deep-water, and wells with a depth of more than 3,000 meters are defined as deep wells.
Experts noted that the "Baodao 21-1" gas field is located in the deep-water area southeast of Hainan Island, with a maximum operating depth of more than 1,500 meters and a completed well depth of more than 5,000 meters, which is also subject to extremely complex marine geological conditions.
Wu Keqiang, chief geologist of CNOOC Hainan, said that the successful discovery of "Baodao 21-1" not only confirmed the exploration potential of the Baodao Sag, but also indicated that China has made an important breakthrough in deep-water drilling technology, which has vital significance for the exploration of similar formations.
"China's deep-sea and deep-earth exploration technology is world-class, and the discovery will not only further advance the development of related exploration technology, but also serve as a way for the country to showcase its advanced technology to the world," Lin Boqiang, director of the Center for Energy Economics Research at Xiamen University, told the Global Times on Thursday.
Lin added that the newly found gas field is expected to further ensure China's energy security and meet the rising energy needs of its people in the context of rising global natural gas prices.
According to CNOOC, the "Baodao 21-1" is located about 150 kilometers from "Deep Sea No 1," China's independently developed ultra-deepwater gas field.
"Deep Sea No.1" was put into use on June 25, 2021 and has produced more than 2 bcm of natural gas, the Xinhua News Agency reported.