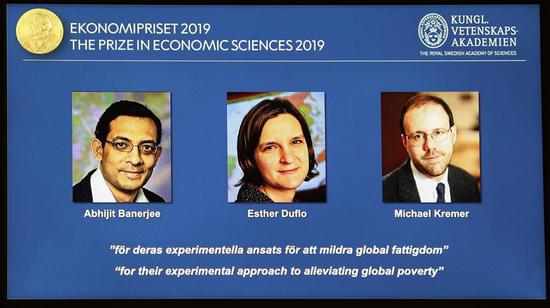 The photos of the winners of the 2019 Nobel Prize in Economics are seen at the Royal Swedish Academy of Sciences, Stockholm, Sweden, Oct. 14, 2019.
By Nicholas Moore
Ten years ago, Elinor Ostrom became the first-ever woman to win the Nobel Memorial Prize in Economic Sciences. On Monday, Esther Duflo joined her as only the second womanto be recognized for her work in the field of economics.
Men have dominated the Nobel Prize in all other fields, but it is in economics where the gender gap is so stark -- out of 84 economics laureates, only two are women.
Women head the International Monetary Fund, India's Finance Ministry and (soon) the European Commission. But why do female economists remain unrecognized when it comes to their field's highest honor?
Ostrom was born in the U.S. during the Great Depression, and wrote in her autobiography that her family never supported her going to college. When she eventually found work, she was expected to know how to type and work as a secretary.
She fought her way to the top, gaining a place at grad school and eventually developed her award-winning research, despite a tough environment back when female economists were simply unheard of.
Arguably, Nobel prizes are mostly "lifetime achievement" awards, and the aging pool of recipients who studied alongside Ostrom in the 1950s and 1960s were predominantly men.
However, a look at current student enrollment at top economic schools shows that while things have changed since then, there is still a long way to go.
According to Claudia Goldin, professor of economics at Harvard, among the top 100 U.S. universities there are six male economics professors for every female. Among undergraduate economics students, only 31.6 percent at Harvard are women, a ratio that has barely changed in the past 20 years.
Goldin herself came to Harvard, a school renowned for its Nobel laureates, as the first women to hold tenure at three Ivy League schools' economics departments. She was named by Bloomberg earlier this month as a potential Nobel laureate for her work on inequality and the changing role of women in the economy.
Goldin told The Harvard Crimson that too many women associate economics degrees with careers in finance, saying female students pull away from economics "before they even come to Harvard, before their parents put their bags in the car, or plane, or train."
According to the National Science Foundation, despite an uptick in women taking STEM (science, technology, engineering and math) in recent years, fewer female students in the U.S. are taking courses in economics.
The situation is not exclusive to the U.S. Only 12.87 percent of professors at Europe's top 20 economics schools are women, according to think tank Bruegel.
Men also dominate economic research in China. However, a look at the associate professors registered on the website of Tsinghua University's School of Economics and Management, one of the country's leading economic schools, shows nine out of 24 are women.
Freshmen registration data compiled by Beijing universities in 2008 showed that just over 50 percent of enrollments in economics were female students, according to Sixth Tone.
China has produced several leading female economists in recent decades, including Chen Xiaohong, who is currently a professor at Yale and a member of the American Academy of Arts and Sciences, an institution that has hosted more than 250 Nobel laureates.