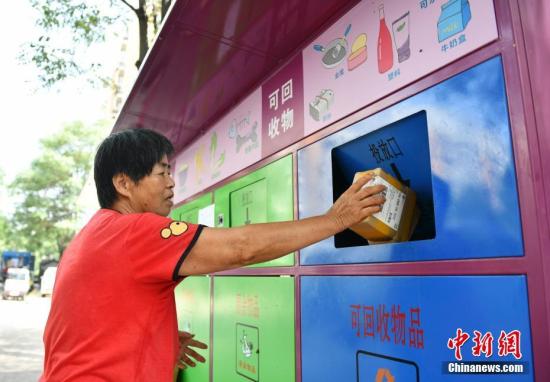 A resident puts garbage into a trash can in Beijing. (File photo/China News Service)
Special: 70th birthday of PRChina
(ECNS) - New plans to amend Beijing's garbage management rules include fines of 200 yuan ($28) for those who fail to correctly sort their trash.
The draft amendment, proposed by the Beijing Municipal Commission of Urban Management, is open for public feedback from Oct. 14 to Nov. 13 before it takes effect.
The new rule says organizations and individuals are advised to reduce the use of disposable items and prioritize reusable alternatives.
In addition, Party and government institutions in the capital city need to cut the use of disposable cups and move towards paperless offices.
Restaurants, food delivery providers, and hotels should not offer disposable supplies to customers, according to the proposal.
Residential communities and villages must have at least one garbage collection zone with four separate containers to hold different household waste, the amendment said.
Individuals are required to sort garbage and put it into corresponding garbage containers. Failing to do so will elicit warnings from urban management authorities and a potential fine of 200 yuan, the amendment said.