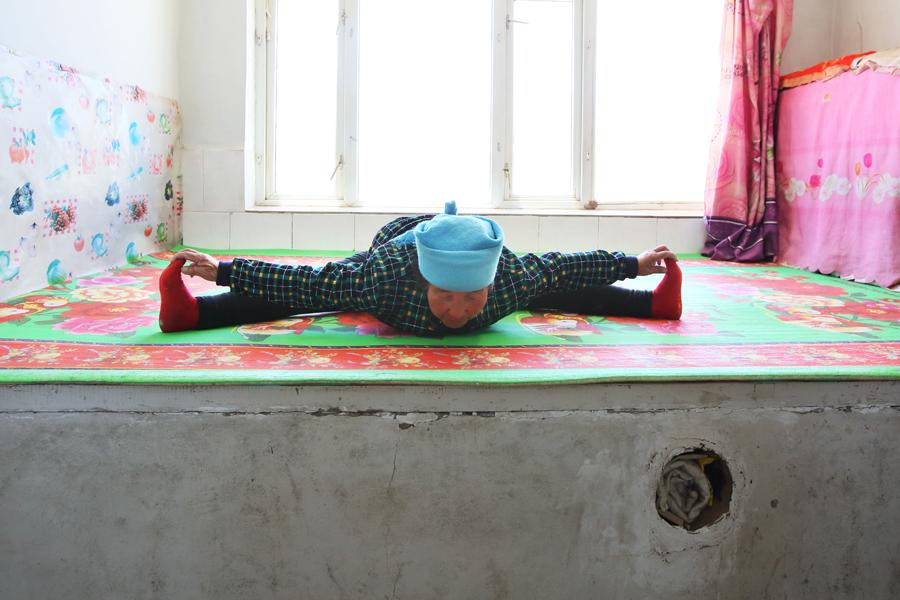 A senior resident practices yoga at home on a kang, a heatable brick bed. (Photo by Zhao Zhannan/for China Daily)
He added that residents' lives revolve around crop cycles, mainly growing potatoes and oats, with some also tending to livestock. Most young people have left for cities in search of better jobs.
As Lu pondered what he could do to improve Yugouliang's lot, he discovered that villagers spent much of their free time sitting cross-legged on brick beds called kang, chatting with neighbors.
"No matter how old they are, villagers can sit like that for a very long time. The posture reminded me of common yoga positions," he said.
As many families were dragged further into poverty after exhausting their meager savings on healthcare, Lu suddenly came up with the idea of teaching villagers yoga to improve their health.
Lu then took it on himself to learn yoga as quickly as possible by watching online videos.
"People here do have natural advantages in the practice of yoga because their daily habits of sitting with their legs crossed makes their bodies relatively flexible," Lu said.
Prev Button
Next Button