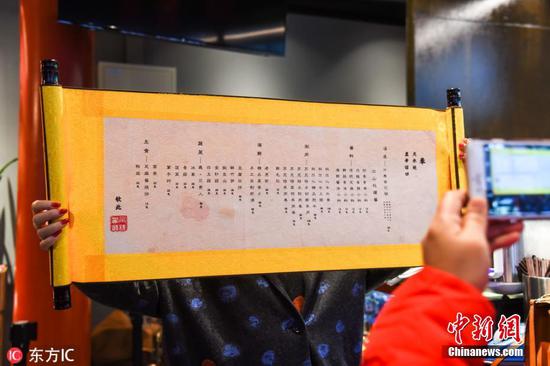 A menu of the new restaurant in the Forbidden City in Beijing. (Photo/IC)
A new restaurant in the ancient Forbidden City in downtown Beijing is offering a dining experience fit for royalty, including a hot pot featuring chrysanthemum soup stock, which is said to have been Empress Dowager Cixi's favorite.
Corner Tower Restaurant opened on the Lunar New Year's Day serving hot pot, roast duck and "palace snacks." The menu reads like an imperial edict: "By the mandate of heaven, the emperor hereby decrees…"
Portraits of emperors and empresses hanging on the walls include humorous sayings such as "no problem is too big that can't be swept under a hot pot."
Generations of emperors were fans of hot pot , including Emperor Qianlong (1711-1799) who ate hot pot more than 200 times a year. Hot pot dining was the inspiration for opening the eatery, said the restaurant on Sina Weibo.
The service is enjoyable, the environment is royal, the dishes are not bad but a bit expensive, were the sentiments of many diners on social media.
"I came not so much for the taste of a hot pot, but to experience Forbidden City culture," said student Wang Xiao.
The restaurant is fully booked until March 10.