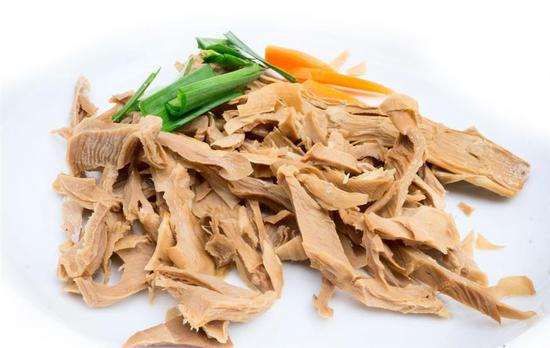 Lin'an dried bamboo shoots (Photo/shine.cn)
Lin'an dried bamboo shoots
Hangzhou was once called Lin'an in the 13th century, when the Southern Song Dynasty (1127-1279) rulers moved the capital here. The name is now used to refer to a mountainous district of the city, lying 30 kilometers in the west.
For foodies, Lin'an is famous for its mountain produce including hickory nuts and dried bamboo shoots. The latter are widely used in well-known dishes such as old duck soup stewed with dried bamboo shoots, or dried bamboo shoots steamed with pork belly.
They can be found in any dishes for accentuating the savory taste and balancing the grease in the meat. And they can be cooked in a multiple of ways, in soups, steamed and in sautéed dishes.
Most of the dried bamboo shoots are produced in local family workshops. The production starts from the time of the Qingming Festival and ends on the day of Guyu (Grain Rain), which falls between the end of April and early May.
The first step is to remove the shell of fresh bamboo shoots, before boiling them in water thoroughly. The cooked ones are then dried in an oven twice, each for six to seven hours.
The dried bamboo shoots must be steeped in water for several minutes before use. Other than being a good companion to meat, they can also be stir-fired with lots of vegetables including zucchinis, broad beans, eggplants and wax gourds.
The locals will stew them with cooking oil, cooking wine, sugar, salt and water and take them as a tapas or an appetizer in a formal dinner.