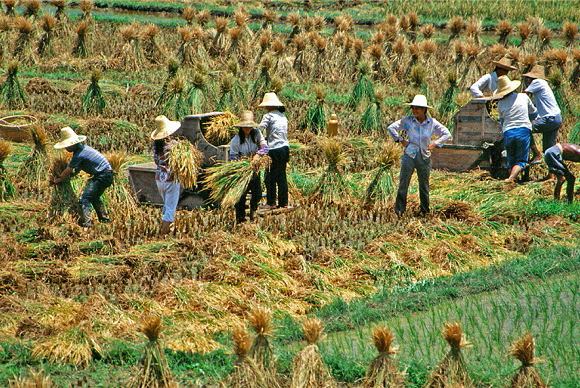 Threshing the rice near Xingping 1993.(Photo by Bruce Connolly/chinadaily.com.cn)
Along with a place that totally fascinates, there comes a desire to stay longer, to settle in for an extensive period. Combine beautiful landscapes with genuine friendship and a relaxing laid-back lifestyle, then it can act as a therapy, erasing the strains of an often hectic modern world. This was how Guangxi's Yangshuo felt in 1993 — it induced happiness, contentment. However in my case there was also the ever-present knowledge I would soon have to leave China. Within two weeks my year, based mainly in Guangzhou, would come to an end. I would head to Hong Kong, fly to London and onward to Scotland.
Traveling to and from Yangshuo is now so easy. Had today's efficient transport existed then, I could have stayed another couple of days. China's extensive, high-speed rail network has swept up from Guangzhou to Guiyang, including a station located east of Yangshuo. With 10 trains to choose from, Guangzhou can be reached in under two and a half hours. In 1993, the journey was certainly much more of an adventure, combined with an overlying feeling of uncertainty. It involved a daylong bus journey to Wuzhou, followed by an overnight boat down the West River (xijiang). That water journey has also been negated by high-speed trains from Nanning stopping at Wuzhou, with Guangzhou only an hour and 50 minutes away. Although there was no concept of online booking in 1993, Yangshuo was well geared up for travelers. Cafes could arrange a combined bus and boat ticket, and having built up friendship with the owners, ticket availability and reliability was guaranteed.
With that arranged, I wanted as much as possible from my remaining time in Yangshuo. It was suggested by the manager of my adopted cafe on West Street I should go by boat to Xingping, a small town 27 kilometers upriver and cycle back down.
"Yes", I thought, "let's go for it!"
After a leisurely breakfast I cycled down to the riverside wharf, my bicycle lifted up onto a low-lying wooden vessel. Sitting outside at the bow as we ploughed upstream, I chatted with a fellow European traveler. Our conversation inevitably focused on how much we enjoyed the "Yangshuo lifestyle" compared to our perception of the daily work ritual waiting back home. Travel in a place such as Yangshuo so easily blotted out life's realities. A dream world, maybe? Or a sub-tropical Shangri-La?
Heading upriver and fighting against strong currents, the crew employed large wooden poles to keep the boat away from shallow waters. Our slow movement provided golden opportunities to observe everyday life on the grassy banks, alongside numerous river boats tied up or moving with the flow. This was a stunning backdrop. Around Xingping is the Guangxi's classic karst landscape, so iconic it features on the 20 RMB note. The town is nestled below Five Finger Hill (wuzhishan). The peaks around town have legends and stories locals gladly share.
There was no dock or pier. The boat beached and we descended a wooden plank from the bow. My bicycle was handed down to me. Today's contemporary images show a flotilla of modern vessels carrying heavy tourist traffic to and from Yangshuo. Xingping has transformed from a quiet river town into a popular, bustling, but still physically beautiful location. I headed first to a cafe, the Bamboo Inn, for fried rice, peanuts and a cold drink. In 1993 there was no hassle, very peaceful and a good place to have conversations with local people. Relatively few international visitors were passing through at that time, although five years later in 1998, U.S. President Bill Clinton and his wife Hillary appreciated the area's stunning natural beauty.
The girl in charge of the boat from Yangshuo saw me and tried persuading me to return by her boat, saying I was crazy to think of cycling, but my mind was made up! I was determined to cycle what would become one of the finest China bike adventures I had experienced up to that time.
Xingping was much quieter than Yangshuo — a small town that could be walked across in under 15 minutes, but I would love to have stayed there for several days. At that time it boasted a small hostel and guesthouse, where I had my simple lunch. Today Xingping is definitely on the tourist trail. In response, resort hotels have opened, there are several guesthouses and cafes offering Chinese and Western cuisine.
With a history stretching back to 265 AD, before Yangshuo developed Xingping was the largest town on that section of the Li River. Its one kilometer-long stone paved main street was lined with older brick buildings and halls featuring horsehead walls, flying eaves, painted rafters and windows with carved patterns.
As I started cycling, even within the village rural scenes encroached. Rice was spread out to dry along the street up from the river. For hours I meandered through some of the finest agricultural countryside I could imagine. With a panoramic backdrop of stunning karst topography I cycled, stopping every five minutes to capture countless images from that moment in time.
As harvest was underway, the predominant color was a golden yellow, alongside brown mud being ploughed and green rice shoots being transplanted. Activity was intense, relentless, as bundles of cut rice straw were fed into wooden threshing machines by women wearing circular bamboo hats, the grains hauled off by motorized carts to nearby villages for domestic use or onward distribution.
As I cycled, there was virtually no road traffic — perfect conditions to take in the transfixing scenes. A farmer walked cackling ducks out from a village; a woman stood beside her buffalo; a ploughman worked almost knee-deep in mud; sacks of peanuts were strapped to bicycles. More buffalo wallowed in paddy fields while a farmer casually crossed a small bridge, his animal running in front; men were catching fish from a pond.
Eight kilometers from Yangshou sits the small town of Fuli. Surrounded by many banyan trees, it has over 1,000 years of history although much seen today dates from the late Qing Dynasty (1644 to 1911). An arched gate acts like picture frame, capturing the Li River with pinnacle summits beyond. This served as backdrop for the popular 1960 musical Liusanjie ("Third Sister Liu"), the story of a legendary female folk singer of Guangxi's Zhuang ethnic group. During the main tourist season, a spectacular contemporary performance directed by Zhang Yimou, "Impression Liu Sanjie" featuring many Zhuang performers, takes place nightly on the Li River at Yangshuo.
Fuli is known as "Chinese Painted Fans Town". Exquisitely painted examples are handcrafted from mao bamboo gathered alongside the river and locally produced tissue paper. They are created at many small shops around the town's historic market street. The fans depict the beauty of Yangshuo landscapes, along with intriguing local culture incorporating elements not just of Guangxi, but also Guangdong and Fujian.
The bus journey to Wuzhou was definitely an adventure, filled with interest but certainly not luxurious. Like most bus travel in China at that time, it was multi-purpose — passengers inside with freight, sometimes live ducks sitting on the roof. We departed from Yangshuo at 7 am, just as the sun started penetrating the mist enshrouding the town's symbolic hills. Trundling across the Li River bridge and passing Fuli, the bus started heading south. Farmers, waving for it to stop, boarded with sacks of grain or baskets of chickens suspended from bamboo poles.
I watched with fascination as we passed countless villages, whose names I would never know. People sat outside small shops as large pigs were guided from their sties to wallow in mud holes. Bicycles were commonly used to transport goods to and from the roadside bus stops. Women washed clothes at wells or sat on stools as they sorted through piles of onions. Boys gathered around outdoor pool tables. Road construction was starting to open up the area — older roads were inadequate for the many conflicting users, including cows, wandering about. Modern-day maps show expressways now following the route.
After a roadside stop for a fried rice lunch, the highway wound up through forested mountains scattered with ethnic villages. As we descended from the hills the sight of boats on navigable rivers suggested we were approaching Wuzhou.
The city is close to Guangdong, where the Gui and Xun Rivers coalesce into the West River (xijiang). For much of its history, Wuzhou was a river town. Usually the bus or boat travelers would pass straight through, but I had been there two months previously. Spending a few days in the older Longhuzhen district, it had been fascinating walking and exploring the busy river banks and narrow alleys with outdoor markets crammed in. Wuzhou today has grown into a much larger, modern city with excellent transportation connections.
The passenger ferry where I had a berth pulled out in the evening, moving quickly with the current. Overnight we glided past familiar cities such as Zhaoqing and Sanshui before emerging onto the busy Pearl River waterway that heralded our arrival at Guangzhou, a city that had been my first real home in China. Its rising skyline brought me physically back to the 20th century — although my mind was still cycling around Yangshuo.
The author Bruce Connolly is a Featured Contributor of China Daily.