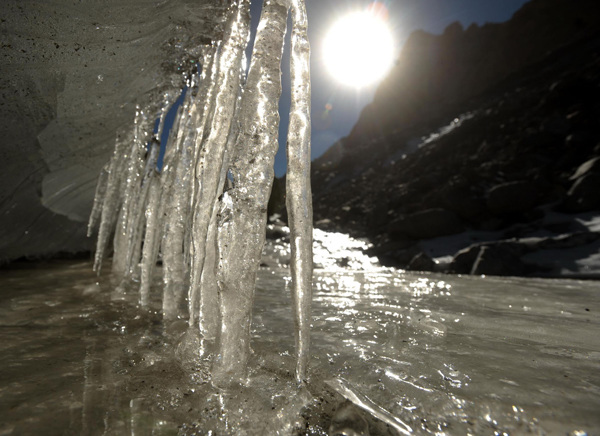 The Touming Mengke glacier, also called Laohu Valley No 12 glacier, the largest valley glacier in the Qilian Mountain Range, located in Subei Mongolian autonomous county, Gansu province in Northwest China, Oct 27, 2013. In 2005, it was listed in Chinese National Geography magazine as one of China's six most beautiful glaciers. [Photo/Xinhua]
The rise of the average annual temperature around the Touming Mengke glacier is causing area reduction of the glacier, according to the research from the Chinese Academy of Sciences. Experts predict small glaciers with an area of about 2 square kilometers and some parts of bigger glaciers will disappear before 2050.
The glacier in the Qilian Mountain Range is the primary water source for many of the oases in Hexi Corridor in Gansu province. Water scarcity will become a significant problem as the glacier retreats over the years. Currently, tourism projects have been canceled for the Touming Mengke glacier.