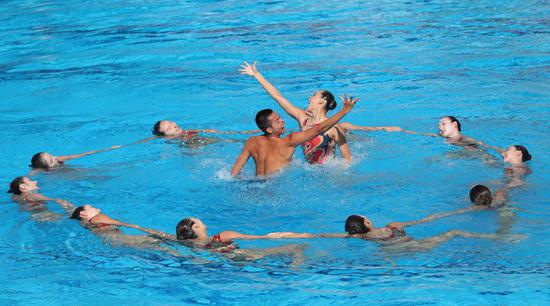 Team China performs during the gala show event of the 19th FINA World Championships in Budapest, Hungary, June 25, 2022. (Xinhua/Zheng Huansong)
Male athletes are allowed to compete in the artistic swimming competitions at the Paris 2024 Olympic Games, World Aquatics announced on Thursday.
World Aquatics revealed that the International Olympic Committee has given its approval for the global home of aquatic sports to allow men to participate in the artistic swimming competitions at Paris 2024.
Artistic swimming has been in the Olympic Games since 1984, and this will be the first time that men are eligible to be included in a team at the Games.
Men have been allowed to compete in the sport at the FINA World Aquatics Championships since 2015.
Male athletes will be eligible to compete in the team event. "There are eight competitors in each team. The new rules will permit a maximum of two men to compete in each team at the Olympic Games. Ten teams are expected to compete," read a press release by World Aquatics.