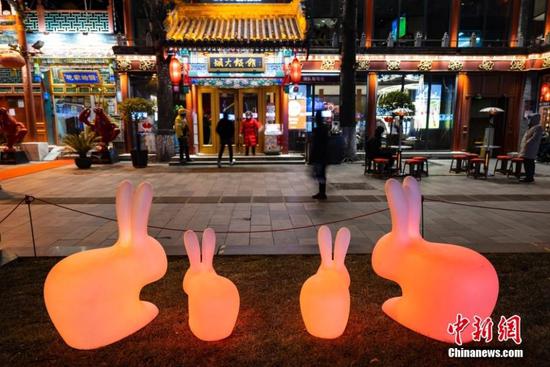 A restaurant opens to customers in Guijie Food Street of Dongcheng District, Beijing, Dec. 22, 2022. (Photo: China News Service/Hou Yu)
(ECNS) -- High foot traffic is expected to be seen in restaurants in Beijing shopping malls this weekend as nucleic acid testing sampled within 48 hours was cancelled.
Many shopping malls including the Hopson One Beijing and the Capita Land made an announcement on Wednesday they would no longer check the nucleic acid testing of eat-in customers.
Customer flow in shopping malls like the Hopson One Beijing, the Joy City, and the Livat continues to resume, especially in the catering industry. At around 11: 30 on Wednesday, the attendance of some fast-food restaurants in the shopping malls reached over 80 percent.
Some restaurant managers in these shopping malls noted that the passenger flow has gradually resumed these days, especially at noon and dinner time, and some restaurants are full. They are fully prepared for customer return this weekend, including environment disinfection and workers' health condition.
In addition, many take-out platforms have sped up delivery services with incentive mechanisms and taken measures to protect delivery riders by distributing epidemic prevention materials like N95 masks and disinfectants. Currently, delivery capacity has gradually improved and almost returned to normal.
Since Dec. 14, the number of registered delivery riders on Meituan platform has been increasing, with 5,000 new registrations cumulatively.
Now 90 percent of delivery riders in Beijing have returned to work.