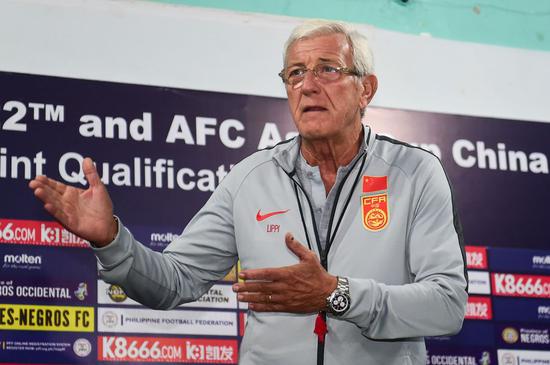 Lippi makes brief introduce of China's preparation for the World Cup Asian qualifier against the Philippines at the pre-game press conference in Bacolod on Oct. 14. (Xinhua/Du Yu)
China's national football team wrapped up its pre-game press conference in under two minutes here on Monday evening ahead of their 2022 FIFA World Cup Asian qualifier against the Philippines.
The press conference had originally been canceled due to heavy traffic in Bacolod City, according to a statement issued by the Chinese Football Association (CFA) through its official Weibo account.
"The press conference was initially scheduled at 6:15pm, but the team arrived in the stadium at around 6:30pm with around half-an-hour delay," read the statement.
"In order to give our nationals more time for training in the field and to take a good rest after the training session, the CFA decide to finish the press conference earlier after a negotiation with the organizers," it added.
Head coach Marcello Lippi, along with captain Hao Junmin and Lippi's translator, stepped into the press conference room in the Panaad Stadium for a few photographs and then left.
Team Dragon arrived in Bacolod last Sunday evening, less than 48 hours before their clash against the Philippines on Tuesday.
By contrast, the host team arrived in Bacolod City a few days ago, and have been taking twice-daily training sessions ahead of their match against the highest-ranked team in qualifying Group A.
Philippines captain Stephan Schrock stressed that anything can happen in football, including a surprise win over China.
"You can be sure that we will be well prepared," Schrock said during the Philippines' press conference.
"We're expecting a good and organized unit from China, and we will ask questions of them tomorrow night," he added.
Currently, the hosts have three points with one win and one defeat, while China top the group after two one-sided wins over the Maldives and Guam.
A total of 40 teams will play across eight groups in the second round of the Asian qualifiers. Eight group winners and the four best runners-up will qualify for the next round.
The match will kick off at 8pm at Panaad Stadium in Bacolod.