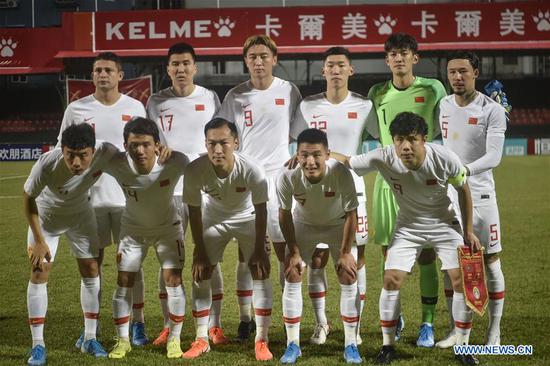 Players of China line up for photos before the match between China and Maldives at the 2022 FIFA World Cup Asian second round qualification tournament in Male, capital of Maldives, Sept. 10, 2019. (Xinhua/Wang Shen)
Elkeson scored twice to help China get off to a winning start as the "Team Dragon" defeated Maldives 5-0 in their Group A tie for the 2022 FIFA World Cup Asian second round qualification tournament on Tuesday.
China dominated the field well and Wu Xi almost had his side ahead 6 minutes into the match, but only saw his long shot denied by Maldives' goalkeeper Mohamed Faisal.
Wu Xi opened the score for China in the 33rd minute, while Wu Lei, who's playing in Spanish La Liga club Espanyol, extended their lead to 2-0 at the end of the first half.
Maldives found their pace at the beginning of the second half, but Yang Xu's penalty kick in the 64th minute put the result beyond doubt.
30-year-old Brazil-born striker Elkeson, who made his debut in the Chinese national team, made history to become the first footballer who scored in the national team without Chinese ancestry after he scored twice by a penalty in the 83rd miunte and nailed the ball home at the end of the game.
Also in Group A are Syria, Guam and the Philippines. China will take on Guam and Syria will face Maldives on Oct.10.
The World Cup Asian qualifiers will also serve as the qualifiers for AFC Asian Cup 2023 to be held in China. A total of 40 teams will play across eight groups in the second round Asian qualifiers.
The group winners and four best runners-up, making up a total of 12 teams, will advance to the AFC Asian Cup China 2023 finals and the final round of qualifying for the FIFA World Cup Qatar 2022.