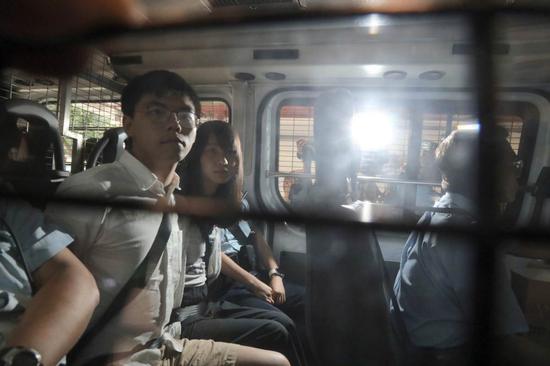 oshua Wong Chi-fung and Agnes Chow Ting are escorted in a police vehicle to the Eastern Magistrates' Court for a court appearance on the afternoon of Aug 30, 2019, after they were arrested in the morning the same day. (Photo/China Daily)
China blasted Germany on Tuesday over a meeting between German Foreign Minister Heiko Maas and Hong Kong separatist Joshua Wong Chi-fung, urging Germany to keep its promise and avoid sending wrong signals to Hong Kong's radicals and secessionists.
"China is strongly dissatisfied by and firmly opposed to Germany's allowing the Hong Kong separatist to enter the country to engage in anti-China and separatist activities, and that German Foreign Minister Maas openly contacted such a person," said Foreign Ministry spokeswoman Hua Chunying.
China has lodged solemn representations to Germany, Hua said at a daily news conference.
Maas met Wong on Monday in Berlin. German Chancellor Angela Merkel visited China last week.
During her visit, Merkel clearly expressed her support for "one country, two systems" and her opposition to violence, Hua said. "We cannot help but ask, what does Germany want by allowing Wong to come to Germany now and have contacts with Foreign Minister Maas?" Hua said.
The spokeswoman urged Maas to "obey the most basic international laws and basic norms of international relations and do things that help China-Germany ties develop, instead of damaging the ties".
She said: "It is extremely wrong that some German media and politicians attempt to use anti-China separatists for grandstanding purposes. Such behavior is disrespectful to China's sovereignty and interference in its domestic affairs."
Reiterating that no foreign government, organization or individual has the right to interfere in Hong Kong's affairs, Hua said that any attempt to fall back on foreign forces to separate China will surely fail.
In another development, Hua criticized the United States for "repeatedly abusing its judicial means to arrest foreign citizens to crack down on foreign companies", and urged the US to correct its wrong behavior.
Hua made the remark after Russia demanded the US withdraw an extradition request for a Russian citizen, who was arrested in Italy.
Alexander Yuryevich Korshunov, who was an employee of a Russian state-owned company, was arrested on Aug 30 at Naples International Airport, the US Department of Justice said on Thursday.