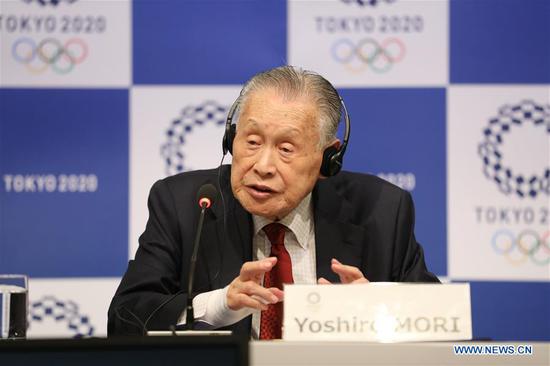 Yoshiro Mori, president of the Tokyo 2020 Organising Committee, answers questions during a joint press conference after the 7th Meeting of the IOC Coordination Commission for the Olympic Games Tokyo 2020 in Tokyo, Japan, Dec. 5, 2018. (Photo/Xinhua)
The organizers of the 2020 Tokyo Olympic Games said Wednesday that they plan to change the start times of some events to reduce the risks posed by Tokyo's summer heat.
The decision came after a deadly heat wave hit Japan in July this year, raising concerns over the risks posed by possible extreme summer heat to athletes, spectators and workers.
Yoshiro Mori, president of Tokyo 2020, told a press conference that morning rugby matches will start at 9 am, 90 minutes earlier than previously planned, while mountain bike events will be pushed an hour later to start at 3 pm.
The organizers are also considering moving the start times of the marathon and 20-kilometer race walk events forward by one hour to 6 am, and a final decision will be made within the year, they said.
"The organizing committee regards this (the heat) as one of the most important issues it faces, and concerns have been raised," Mori was quoted as saying.
An unusual heat wave hit wide swathes of Japan this July, which saw a record high temperature of 41.1 degrees Celsius near Tokyo and caused dozens of deaths.