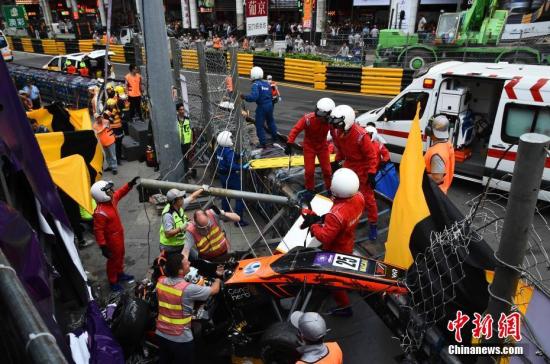 The injured were all immediately sent to hospital for medical treatment. (Photo/China News Service)
Five people, including two racers were injured in a horrible incident during the last day of the 65th Macao Grand Prix on Sunday, according to Xinhua.
In the fourth lap of the Formula Three (F3) final, the car of Germany's Sophia Florsch, the only female racer of the event, hit another car before crashing into a platform for media, leading to an interruption of the race.
Two racers including Florsch and Sho Tsuboi from Japan, two photographers including one Japanese and one local, and a marshal were hurt and were immediately sent to hospital.
According to The Paper, Florsch was confirmed with spine fracture, Tsuboi felt pain in his waist, there were damages to the marshal's face, the Japanese photographer had concussion and the local photographer saw injuries to the liver. All five are still receiving medical treatment.
The race resumed about an hour after the accident and Daniel Ticktum from Britain secured his second Macao GP victory.