Special: Xi Attends APEC Meeting, Visits PNG, Brunei and Philippines
China's assistance has helped many developing countries improve their independent development capabilities and levels, Hua Chunying, spokesperson for the Chinese Foreign Ministry said in a statement on Sunday, rejecting the "debt trap" accusation made by US Vice President Mike Pence at the Asia-Pacific Economic Cooperation (APEC) CEO Summit on Saturday.
"No developing country has ever run into debt problems as a result of working with China," she said, adding that China has been helping other countries with their economic and social development with no political strings attached.
"And this is the reason why cooperation with China has been widely welcomed by the governments and people of developing countries," she explained.
Chinese President Xi Jinping made a series of key speeches at the 2018 APEC Leaders' Meeting, expressing views on current world economic trends and putting forward a number of important proposals on strengthening international cooperation, improving global governance and tackling common challenges.
President Xi has stressed that both international and regional cooperation should be guided by openness, development, inclusiveness, innovation, and rules, Hua said.
President Xi's proposals have been highly endorsed by all sides, which conform to the trend of the development of the world economy and global economic governance and reflect the strategic vision and leading role of leaders of major countries, she added.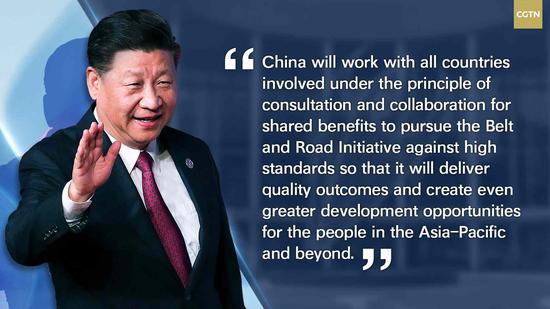 Hua called on all parties to show a responsible and constructive attitude and keep in mind the original intention of the organization when APEC is at a critical stage of development.
"We should resolve differences through consultation and negotiation, and should not erect barriers on purpose," she added.
Cooperation and mutual benefits should be upheld, no matter if it's the Pacific Ocean, the Indian Ocean, or the Atlantic Ocean, rather than geographical competition and confrontation, the spokeswoman said.
China has conducted sound cooperation with many countries in the world on the basis of mutual respect and mutual benefit, such as mutually beneficial cooperation with developing countries within the framework of South-South cooperation.
China is an important member of the Asia-Pacific region and supports APEC to continue to play an active role in promoting regional cooperation and common development, Hua noted.
"China is willing to work with other countries to jointly build a community with a shared future for mankind and promote a new type of international relations featuring mutual respect, fairness, and win-win cooperation."
The statement urged certain countries to truly treat all countries, big or small, equally and make real practical contributions to developing countries.
"The countries should truly respect the right of other countries to pursue their own path of development in accordance with their national circumstances."