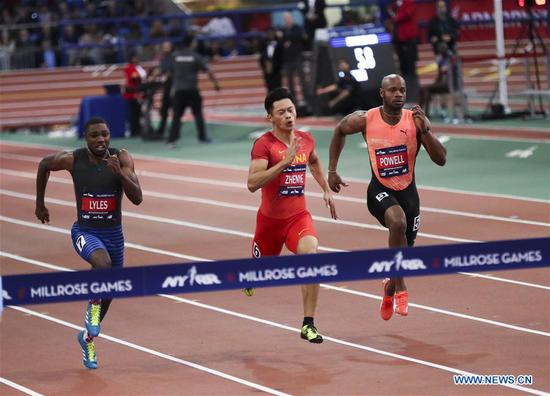 Xie Zhenye(C) of China competes during the Joe Yancey Men's 60m of the 111th NYRR Millrose Games in New York, the United States on Feb. 3, 2018. Xie Zhenye won the third place by 6.588 seconds. (Xinhua/Wang Ying)
Special: Asian Games 2018
Chinese sprinter Xie Zhenye will pull out of the Asian Games in Jakarta, the champion of the 4x100 meters relay in the 2014 Incheon Asiad said on his social media on Thursday.
"A re-examination of my ankle yesterday does not say well. After a serious discussion, my team and I decided that it would be better for me to withdraw from the Jakarta Asian Games for long-term goods. I'd like to say sorry to the fans who support me all the time. Sorry to let you down," Xie wrote.
The picture of the diagnosis Xie posted says that the 24-year-old suffers from a partial tear of deltoid ligament in the right ankle with effusion in a few joints.
The sprinter picked up the injury during the London Diamond League earlier this year when an accident in the baton pass had him stumbled and nearly fall to the ground.
Xie was positive he would return to the tracks in two to three weeks after immediate examination and he signed up for 100 meters, 200 meters and 4x100 meters relay in the Jakarta Asian Games. But the re-examination results had him quit the Asiad when the sports feast is two days away.
This year has been a year of breakthroughs for Xie as he refreshed his personal best to 9.97 seconds in the 100 meters in Montreuil and claimed gold in the 200 meters in the first Athletics World Cup in London.
These achievements make him one of the favorite title contenders in all three events he was up for. However, his withdrawal denied him the chance to repeat the feat he did with teammates Chen Shiwei, Su Bingtian, Zhang Peineng four years ago at Incheon when they snatched a gold medal for China and broke the Asian record up to 37.99.