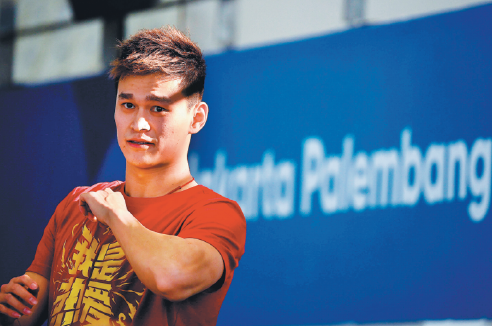 Sun Yang, China's world and Olympic swimming champion, prepares for his training session in Jakarta on Wednesday. (Photo/Xinhua)
Special: Asian Games 2018
China primed to meet challenge from Japan
With three-time Olympic freestyle champion Sun Yang leading the way, China's vaunted team of pool sharks is determined to take a bite out of the 18th Asian Games in Jakarta.
Three days before the competition opens, the Gelora Bung Karno Aquatic Center in a southern suburb of the Indonesian capital was the scene of frenzied action on Wednesday as Chinese swimmers tested the water in a final tune-up for the quadrennial event.
As the team's undisputed leader in and out of the water, Sun vows to spearhead China's dominance while warding off strong challenges from archrival Japan.
"I've fully prepared for the Asian Games after intensive training in Hong Kong, where I improved my aerobic endurance for the long-distance events," said Sun, who will compete in all four individual freestyle events from 200m to 1500m in Jakarta.
At the 2014 Asian Games in Incheon, South Korea, Sun lost his opening 200 to Japanese underdog Kosuke Hagino but rebounded to win gold in the 400 and 1500, as well as the men's 4x100 free relay, contributing greatly to China's leading haul of 22 golds.
With the 800m free added to the Asiad program for the first time in Jakarta, Sun faces the prospect of swimming preliminary heats and four finals over the course of six days-an unprecedented endurance test at this level.
With renowned distance coach Denis Cotterell of Australia and long-time mentor Zhu Zhigen supporting him, Sun is confident he can pull it off.
"I will be busier than ever and it takes a heavy toll on my body," said the 27-year-old, who swept all three individual disciplines from 200 to 1500 at the 2012 and 2016 Olympics.
"My ability in the distance events has improved to near my prime form. I just need to build on the momentum in real competition."
Cotterell, who helped Sun set the current 1500m world record (14:31.02) at the 2012 London Olympics, said the recovery in Sun's stroke efficiency and pace for long-distance races is encouraging.
"It's been difficult for him in the past few years, but he's progressing nicely in the distance events," Cotterell said on Wednesday.