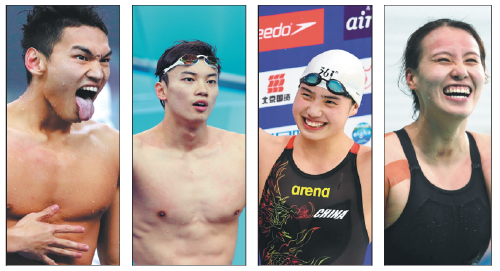 From left: World 100m backstroke champion Xu Jiayu, Rio Olympic 200m individual medley bronze winner Wang Shun, 200m butterfly national champion Zhang Yufei and Fu Yuanhui, the 50m backstroke world champion, are joining Sun Yang in China's effort to dominate the pool at the Asian Games. (Photo/Xinhua)
Special: Asian Games 2018
Joining Sun to bolster China's medal hopes are men's backstroke world champion Xu Jiayu, individual medley specialist Wang Shun and women's freestyle sprinter Liu Xiang, as well as veteran backstroke world champion Fu Yuanhui.
Xu, another clear favorite in his discipline, said he expects to win all five events-the 50, 100 and 200 backstroke and two medley relays-to cement his status as a world-class competitor.
"Although I've almost touched the world record, I still feel like I am a follower rather than a leader at international meets," said Xu, who clocked 51.86 sec, just 0.01 off American Ryan Murphy's world record in Rio, to win the 100m at last year's national championships.
"I will try to break the record and win as many gold medals as possible in Jakarta to boost my confidence," said the 22-year-old, who won the 100m gold at the 2017 FINA World Championships in Budapest.
On the women's side, Liu, the new Asian record holder in 50m free, and veteran Fu, although plagued by a left shoulder injury, are poised to lead the fight against challenges from Japanese swimmers.
Fresh off its successful campaign at the this year's Pan Pacific Championships, Japan shapes up as the strongest challenge for China at the Asiad, having proven world-class prowess in events where China lacks strength, such as men's individual medley, breaststroke and women's butterfly.
At the 2014 Asian Games, Japan won 46 medals in swimming-just one shy of China's 47-including 12 gold.
Bagging both men's IM events four years ago, Hagino will put up a fight against China's Wang while also posing a threat in shorter freestyle races against Sun.
Freestyle sprinter Shinri Shioura won double silver in the 50m and 100m freestyle behind China's Ning Zetao at the 2014 Asiad. With Ning absent in Jakarta, Shioura is among title contenders in both distances.
Yasuhiro Koseki, ranked No 4 in men's 200m breaststroke, and teammate Ippei Watanabe, who won the race at the Pan Pacific meet, will make China's Qin Haiyang have to work that much harder for his first Asian title.
The 100m breaststroke looks likely to be a tight battle between Koseki and China's Yan Zibei, whose best times this season are 58.96 and 58.97 respectively.