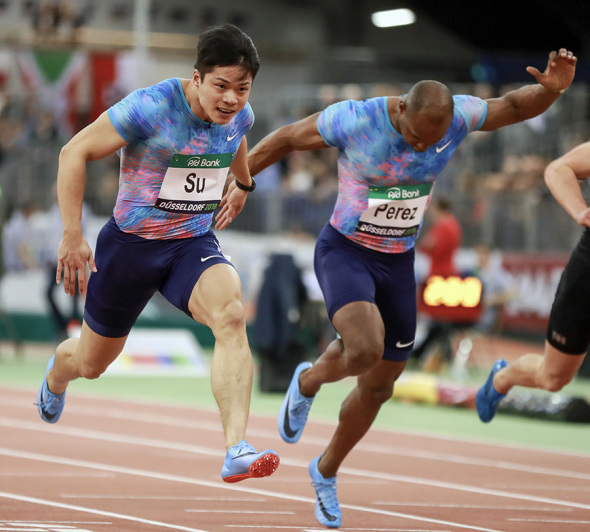 China's Su Bingtian sprints to gold in the men's 60m final at an IAAF World Indoor Tour meet in Dusseldorf, Germany, on Tuesday. Su clocked 6.43 seconds to break his own Asian record, which he set on Saturday in Karlsruhe, Germany. (Photo/Xinhua)
China's sprint star smashes Asian record for second time
Su Bingtian couldn't hide his joy - and surprise - after smashing the Asian 60m record for the second time in four days.
But the magnitude of his feat was still sinking in hours later.
The 28-year-old, who has been pondering retirement, blazed across the finish line in 6.43 seconds at the second stop of the IAAF World Indoor Tour in Dusseldorf on Tuesday, having already eclipsed the old mark by clocking 6.47 in Karlsruhe on Saturday.
"I told my wife last year I might call it quits this season," said the Zhongshan-born star, who in 2015 became the first Asia-born sprinter to break the 10sec plateau in the 100.
"But I found I still have dreams to achieve - and my wife supports my decision."
Su was eliminated in the 100m semifinals at the 2016 Rio Olympics, where he led China's 4x100 relay team to a fourth-place finish.
His scintillating start to the indoor season has given him extra confidence of reaching the 2020 Olympics in Tokyo.
"Now I tell myself to keep training and hopefully I can compete again at the 2020 Games," he said.
Su's 6.43 tied the fifth fastest ever over 60m, which is rarely run outdoors and is a non-Olympic event.
"I am surprised by the result. I never expected it, or even imagined it," he said in a post on social media.
"I want to attribute my success to my whole team, they are really great and we will continue to fight in the future... to enjoy the competition, enjoy the run."
His breakthrough was hailed by teammate Wu Zhiqiang and athletics' global governing body, the IAAF.
"As a Chinese sprinter, I am really proud of your performance!" Wu wrote on weibo.
"By far the most powerful performance on the Dusseldorf track came in the men's 60m," the IAAF's official website said, saluting Su's accomplishment.
Su is scheduled to compete again at the final leg of the six-meet IAAF World Indoor Tour in Glasgow, Scotland, on Feb 25. That will be followed by the March 1-4 IAAF World Indoor Championships in Birmingham.