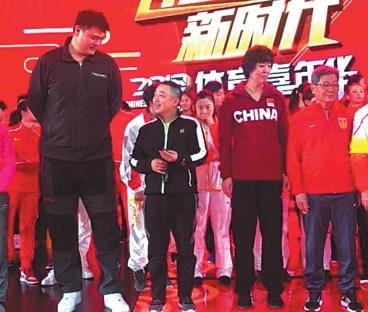 Yao Ming chats with Liu Guoliang, who stands next to Lang Ping at Monday's rehearsal for the Chinese New Year Sports Gala. (Photo/China Daily)
The inaugural Chinese New Year Sports Gala will debut during the upcoming Spring Festival.
Featuring eight-time NBA All-Star and Chinese Basketball Association boss Yao Ming, table tennis legend Liu Guoliang and over 100 other sporting celebrities, the gala will be the equivalent to Chunwan, the China Central Television (CCTV) New Year's Gala, which is one of the world's most watched annual telecasts.
Towering over the other stars at Monday's rehearsal was Yao, who is marshaling the ongoing Chinese basketball reform.
Liu, who has retired as head coach of the Chinese table tennis team to commit himself to the promotion of Chinese sports culture around the world, was seen trading jokes with Yao and Ding Ning, the Grand Slam winner of Olympic, world championship and World Cup table tennis singles titles.
Other big names slated to appear at the gala include Olympic gold medal volleyball coach Lang Ping, former national shooting team head coach Wang Yifu and Olympic and world champion table tennis paddler Ma Long.