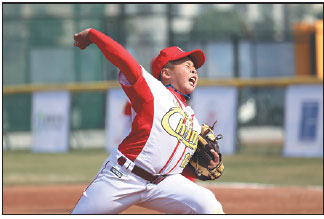 Chinese player Yun Yongteng, 11, from Dongsheng township, pitches a ball at the 9th Asian U12 Baseball Championship held in Zhongshan, Guangdong province.Qiu Quanlin / China Daily
In the Pearl River Delta, Dongsheng township was previously best known for manufacturing office furniture and its fishing industry, having greatly benefited from China's policy of reform and opening-up since the 1980s.
However, in the past 10 years, the 75-square-kilometer township with a population of about 174,000 has become better known for its leading position in China's development of baseball, with more than 500 students from its 20 schools involved in the sport.
"We already know that baseball should be played in schools and we have been consistent in our efforts to promote the sport among local students," said Feng Xiaolong, chairman of the Zhongshan Baseball and Softball Association.
The township was in the news in early December when six young local players were included in the Chinese national U12 team to compete in the Ninth Asian U12 Baseball Championship.
"The championship, a flagship event held by the Baseball Federation of Asia every two years, has greatly helped promote the sport in local schools and communities," Feng said.
"From primary and middle to high schools, we are building a training system covering all ages of students. We are glad to see that a rising number of parents and children have developed an interest in the sport," Feng added.
The plan of developing the township into a major baseball hub was not made overnight. Dongsheng has a long tradition associated with the sport.
Dongsheng, in Zhongshan, Guangdong province, is the birthplace of Liang Fuchu, who was influential in bringing baseball to China in the early 20th century.
Liang, widely regarded as the father of Chinese baseball, created the Panda Cup in Shanghai in 1939. Liang's team received wide attention after beating international giants of the game, including the United States, Portugal, Britain and the Philippines.
His son, Liang Youwen, then-82 years old, returned to his hometown and began coaching a local teenage baseball team in 2007.
"Since then, we have been building the township into a major baseball hub within China," Feng said.
To promote the sport, the local government and the baseball association launched an annual teenage tournament called Panda Cup in 2011 in memory of Liang Fuchu.
"The international tournament has played an important role in enabling young local players to promote exchanges of the sport with their overseas counterparts," Feng said.
According to Feng, a 2,000-capacity international youth baseball stadium has recently been constructed in the township.
"We are extremely happy to be able to play baseball after class and become friends with international players," said Yun Yongteng, 11, a native of Dongshen and a member of China's U12 baseball team. Yun started playing the sport at age 8.