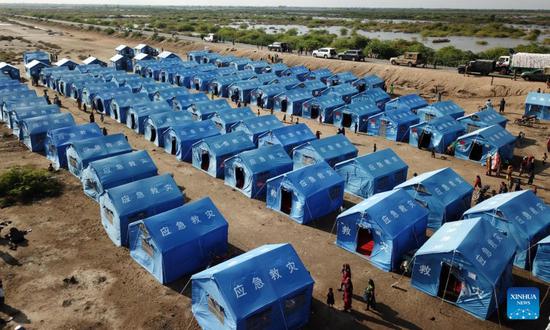 Aerial photo taken on Sep 29, 2022 shows a makeshift shelter built with tents donated by China in flood relief aid in Matli town of Badin District in southern Pakistan's Sindh province. (Photo/Xinhua)
A group of 11 experts sent by the Chinese government to Pakistan for assisting the country's disaster assessment, flood prevention and relief work concluded their inspection and exchanges and returned to China on Saturday.
The expert group, which was organized by China's Ministry of Emergency Management, covered six fields including hydrology, meteorology, rescue and relief, disaster assessment, flood control planning, and flood control management.
During their 11-day stay in Pakistan, the delegation visited the country's worst-hit south Sindh province for an on the ground inspection, including the cause and characteristics of the catastrophic flood, relief measures and post-disaster recovery.
The group shared China's experience in flood control and disaster reduction and provided local officials with preliminary advice and suggestions specific to recent disaster relief and medium- and long-term enhancement of flood control and disaster reduction capabilities, according to a statement published on the website of the Ministry of Emergency Management.
Chairman of the National Disaster Management Authority of Pakistan Inam Haider Malik said his country would benefit from the advice of the visiting Chinese flood control expert group in the rebuilding process for the flood-hit regions, the Xinhua News Agency reported.
Speaking at a meeting with the delegation on Friday, Lt. Gen. Malik said that Pakistan has a colossal task at hand, but with the help of the Chinese experts and lessons from their gathered experiences, the country will deliver an outstanding response in tackling the problem and be in a better position for the next phase of reconstruction and rehabilitation work, according to Xinhua.