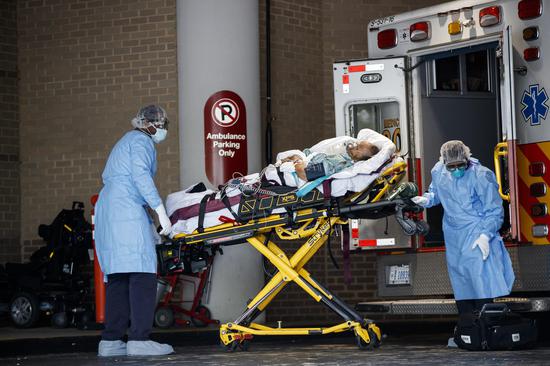 Medical workers transport a patient at George Washington University Hospital in Washington D.C., the United States, on April 27, 2020. (Photo by Ting Shen/Xinhua)
Special: Battle Against Novel Coronavirus
Global confirmed COVID-19 cases topped 10 million on Sunday, with nearly 500,000 deaths worldwide, according to data compiled by the Center for Systems Science and Engineering (CSSE) at Johns Hopkins University.
The new grim milestone, reached faster than expected, has proved that the global epidemic is grave and that the international community should remain vigilant.
Furthermore, as the sweeping pandemic is causing a deep economic contraction, world leaders and experts have stressed the urgency of strengthened coordination to jumpstart a global economic recovery.
GRAVE EPIDEMIC
The momentum of infections worldwide has been accelerating over the past month -- while it took eight days for the global tally to increase from 6 million to 7 million in early June, it only took six days this time for the number to reach 10 million from 9 million.
The Americas are a cause for concern. The United States has by far ranked first on the CSSE global tally, with more than 2.5 million confirmed cases and over 125,000 deaths nationwide.
Robert Redfield, chief of the U.S. Centers for Disease Control and Prevention, said Thursday the number of people in the United States who have been infected is likely to be 10 times higher than reported.
"We are facing a serious problem in certain areas," Anthony Fauci, director of the National Institute of Allergy and Infectious Diseases, said Friday.
Due to rising cases and growing concern about the virus's spread across the country, 12 U.S. states have rolled back or paused reopening plans, according to a tally by CNN on Saturday.
Although a few states are meeting the benchmarks that experts recommend to lift restrictions, "most never fully controlled their outbreaks, instead forging ahead with reopening," Correspondent German Lopez wrote in a story posted by news website Vox on Saturday. "A mix of carelessness and partisanship is to blame."
Meanwhile, the situation is not at all ebbing in the region of Latin America and the Caribbean. Brazil, the second hardest-hit in the world, has registered 1,313,667 confirmed cases and 57,070 deaths by Saturday.
Peru, with the second largest caseload in Latin America, hosts the sixth-highest number of infections in the world. Its caseload has reached 275,989 with 9,135 deaths by Saturday.
Chile and Mexico are also among the countries with high infections in the region.
"I would characterize the situation in the Americas in general, and in Central and Latin America as still evolving and not having reached its peak yet, and likely to result in a sustained number of cases and continued deaths in the coming weeks," said Michael Ryan, executive director of World Health Organization Health Emergencies Program on Wednesday.