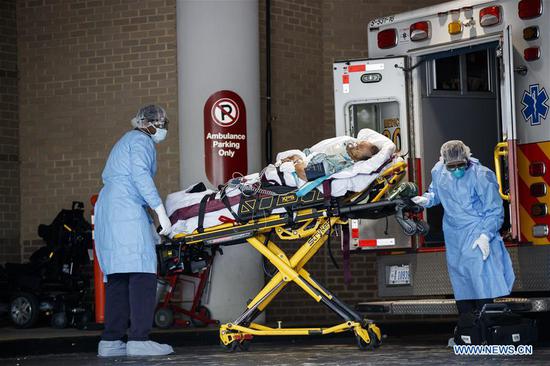 Medical workers carry a patient from an ambulance to George Washington University Hospital in Washington D.C., the United States, on April 27, 2020. (Photo by Ting Shen/Xinhua)
Special: Battle Against Novel Coronavirus
The number of confirmed COVID-19 cases in the U.S. approached one million on Monday, according to Johns Hopkins University.
There are more than 55,000 deaths related to coronavirus after the first case was reported in Washington state in January.
New York has 17,515 deaths, more than any other state in the country. It's also the state with the highest number of confirmed cases – 292,027.
The global total cases have surpassed three million across 185 countries and regions, with more than 210,374 deaths.
The U.S. has the highest number of cases in the world, followed by Italy, about 27,000, and Spain, 23,521.