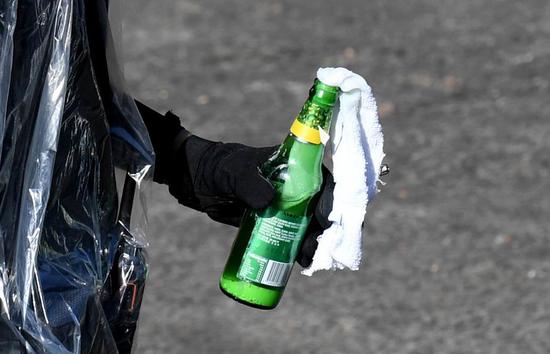 A rioter holds a petrol bomb outside the Hong Kong Polytechnic University in south China's Hong Kong, Nov. 17, 2019. (Xinhua)
A total of 42 members of the Hong Kong Special Administrative Region (HKSAR) Legislative Council (LegCo) issued a joint statement on Monday, strongly condemning the opposition lawmakers for condoning and glorifying violence, and calling for protecting the rule of law and young people.
Since last year's unrest sparked by the ordinance amendments concerning fugitive transfers, the opposition LegCo members have been justifying and glorifying violent and illegal acts, misleading the unsophisticated and hot-blooded teenagers, said the joint statement.
The recent spate of severe illegal acts involving teenagers and students, including murder and bomb making, is the last warning that the whole community must be alert to, it added.
The arrested teenagers should have been at school studying for their future, but are now facing prosecution and a ruined future, said Martin Liao Cheung-kong, convener of pro-establishment LegCo members, blaming the opposition LegCo members for leading the teenagers astray by continuing glorifying and condoning violence.
The opposition lawmakers' evil deeds, which have undermined the foundation of the rule of law in Hong Kong, encouraged the escalation of violence, poisoned the young people and accelerated the destruction of the whole community, will only push Hong Kong further into the abyss, Liao said.
The pro-establishment LegCo members issued the joint statement to express the strongest condemnation of these evil deeds and to urge the public to oppose any words and deeds that incite or facilitate violence, so as to safeguard the rule of law, the next generation and the future of Hong Kong, he added.
Regina Ip Lau Suk-yee, a LegCo member and chairperson of the New People's Party, expressed strong condemnation of some teachers and textbook compilers for their irresponsible acts such as compiling teaching materials that provoke hatred, deliberately disparage the nation and incite discontent with the society among youths.
The cases uncovered recently by the police have shown that the violence in Hong Kong is likely to escalate further and even towards terrorism, noted Starry Lee Wai-king, a LegCo member and chairperson of the Democratic Alliance for the Betterment and Progress of Hong Kong, adding that what is more worrying and shocking is the involvement of many young people in these cases.
She warned that instead of solving problems, violence will only lead to more violence in the society and affect young people's future.