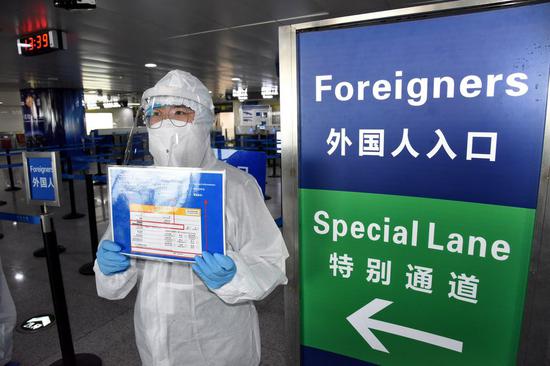 A staff member reminds foreigners to fill in an arrival card at Qingdao Liuting International Airport in Qingdao, east China's Shandong Province, March 5, 2020. (Xinhua/Li Ziheng)
Special: Battle Against Novel Coronavirus
Authorities have made it clear in a notification that foreign nationals on the Chinese mainland confirmed or suspected of being infected with COVID-19 should be treated before paying for medical expenses.
The requirement is aimed to ensure that all patients are admitted into and treated by hospitals in time, according to the notification jointly issued by the National Healthcare Security Administration, Ministries of Foreign Affairs and Finance, and National Health Commission.
The notification stated that confirmed or suspected COVID-19 patients from foreign countries will need to pay for medical expenses on their own if they are not covered by China's basic medical insurance system.
For those covered by the system, their medical expenses will be covered partly by insurance, with the remainder to be shouldered by the patients themselves.
The notification also said that foreign individuals will have to pay for the costs at isolation centers.
Local departments were urged to stay well informed about the situation report regarding COVID-19 patients from foreign countries and make sure they are properly treated, charged and monitored.