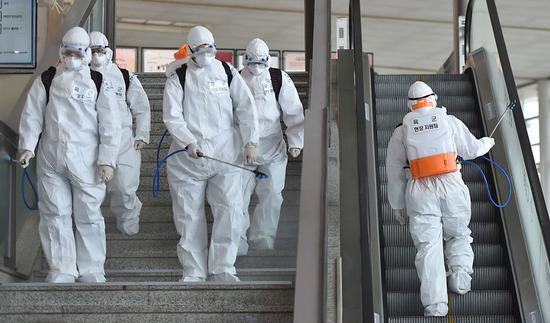 People disinfect a station in Daegu, South Korea, Feb. 29, 2020. (NEWSIS/Handout via Xinhua)
Special: Battle Against Novel Coronavirus
As signs of a wider global spread of the COVID-19 epidemic are becoming obvious, the international community must take scientific and targeted measures to prevent further cross-border transmission of the disease.
As of Thursday, novel coronavirus-infected cases have been registered on all continents except Antarctica. Meanwhile, some countries and regions are faced with an increasing number of imported cases, which is seen as a pressing issue for the world to effectively manage.
Firstly, coordination mechanisms need to be established to ensure that all countries cooperate and communicate closely. China has adopted the most comprehensive and rigorous measures to date, such as strengthening risk evaluation, inspections and quarantine at ports.
To reduce the risk of imported cases, all parties are advised to further expand international cooperation, strengthen communication and share information with other countries, especially those with frequent movements between people, as well as share experience and provide technical assistance within one's capacity.
Secondly, countries should prevent the spread of and control the disease appropriately. Based on China's experiences in fighting COVID-19, controlling and reducing unnecessary cross-border movement of people early on is of crucial importance to preventing the spread of an epidemic.
Therefore, it is necessary to strike a balance between blocking cross-border transmission and maintaining global exchanges and economic and trade cooperation. Meanwhile, intensified border controls cannot be used as an excuse for racism and xenophobia.
Last but not the least, considering the rapidly changing global situation, countries need to learn from each other and carry out more flexible and scientific practices to fight the epidemic.
It must be noted that all measures taken to block imported cases should not be deemed "ruthless" or "an act of prejudice." In fact, it is a moral necessity and global responsibility.
At a moment when people-to-people exchanges and trade are increasingly integrated, humanity's various interests are more closely aligned. Under such circumstances, it is unpractical for any country to implement a closed-door policy to control the disease. Closer cooperation is the only way forward.
Through enormous effort and sacrifice, China has worked diligently to contain the epidemic, but victory has yet to come. More work is needed to prevent further transmission at home and forestall imported cases from other countries and regions.
The virus is not limited by national border or race. It is a common responsibility for all to contain the epidemic. Only by adopting more effective methods, bolstering international cooperation, and implementing all necessary measures can cross-border infections be blocked and global public health security safeguarded.