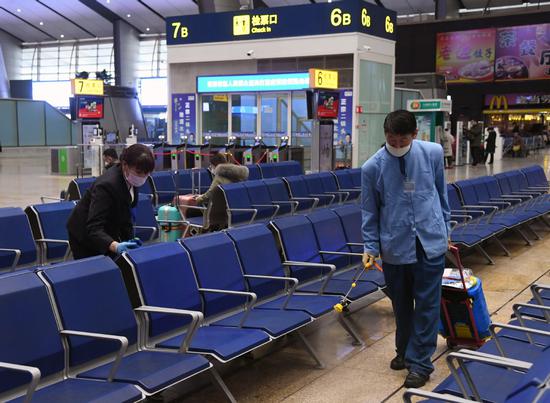 Workers disinfect a waiting room at Beijing South Railway Station on Thursday. REN CHAO / XINHUA
Special: Battle Against Novel Coronavirus
Police officer Yang Haijie is in charge of a checkpoint on the G50 highway, where Yang, his colleagues and staff members of local hospitals and districts check the temperature of drivers and passengers in cars entering Shanghai and register identities and destinations.
"To ensure safety, it takes a minute to clear just one car for a thorough examination," he said. "It seems like an endless task, but we're all determined to stick to our post."
Yang is one of more than 5,000 officers and volunteers providing round-the-clock coverage at checkpoints on Shanghai's perimeter. Simultaneously, hundreds of medical teams stand by to attend to people found to have a fever, a possible sign of a novel coronavirus infection.
Lines of cars at checkpoints have gotten longer in the past few days as millions of people return to the city after an extended Spring Festival holiday.
The holiday, prolonged by a week in big cities, ended on Monday. As business resumes, cities like Beijing, Shanghai and Guangzhou will face a test as they work to curb the spread of novel coronavirus pneumonia in coming weeks, said Feng Kui, an urban development researcher at the National Development and Reform Commission.
"Compared with the SARS outbreak in 2003, the population migration in China now is about six times larger," he said.
Screening at city entry points to halt the virus' spread has become an essential first step for mega cities, which are sparing no effort to ensure the measure's effectiveness, officials said.
Yang Xiaoxi, deputy director of the Shanghai Municipal Transportation Commission, said temperature checks and health status registration are enforced at train stations, airports and highway toll booths, and people with no clear residential addresses or job are told to turn around.
Beijing Capital International Airport and the new airport in Da­xing had conducted body temperature checks of more than 1.5 million people by Saturday and had spotted 188 with abnormal temperatures, who were taken to quarantine areas for assessment, Han Zhiliang, deputy general manager of Capital Airport Holding Co, told Beijing News. Han said that the number of passengers handled by the two airports had decreased by 62.6 percent since Spring Festival Eve.
Gao Xiaojun, an inspector at the Beijing Municipal Health Commission, said at a news briefing on Saturday that people from areas where cases of infection exceed 1,000 are asked to stay at home and not to come to Beijing.
Infrared monitors have also been set up in the three railway stations in Guangzhou. They are reinforced with police, medical workers and volunteers to check the temperature of everyone arriving or leaving, according to Guangzhou Daily.
To minimize the risk of asymptomatic infection, most cities have urged returning residents to remain in home quarantine for a few days. Those returning from regions with the most infections are subject to a mandatory quarantine of 14 days.
Most cities have also called on corporations and public institutions to implement flexible office hours to help employees avoid busy travel dates and peak commuting hours.
On Sunday, Xu Wei, a spokesman for the Shanghai municipal government, said companies and institutions should "make flexible arrangements for employees returning to Shanghai, while those from regions heavily affected by the NCP outbreak should further delay their travel plans". He also called on different industries to implement flexible office hours and staggered shifts.
Zhang Dezhi, deputy head of the Shanghai Municipal Federation of Trade Unions, said, "Corporations should do their best to enable their employees to have flexible working hours or work from home." That will allow them to "get their work done and take care of their children", given that schools are not yet open.
On Monday morning, Shanghai's subway trains had plenty of empty seats. The Shanghai Metro said that the number of passengers as of 9 am on Monday was down roughly 80 percent from a normal workday.