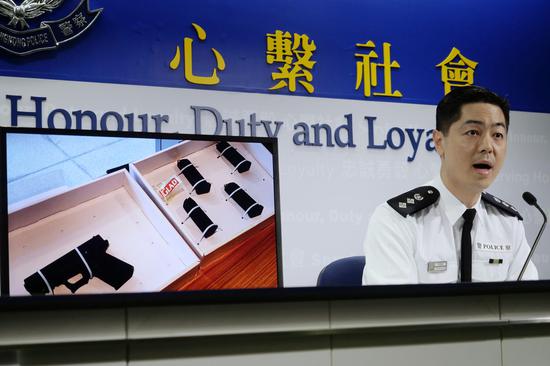 Hong Kong police on Monday show a semi-automatic pistol seized in operation carried out on Sunday. (Xinhua)
The Hong Kong police warned on Monday that teachers should prevent students from taking part in violent and destructive acts instead of leading them to do so.
The police conducted preemptive patrols at multiple locations across Hong Kong early Monday morning to prevent disruptions of traffic initiated by radicals.
In Sheung Shui, the New Territories, the police intercepted and checked 12 people, and seized various weapons and instruments to be used for road blockage and vandalism, including nails, electric drills, homemade barricades for puncturing tires, and flammable liquid and glass bottles to be used to make petrol bombs.
The 10 males and two females on Monday were arrested for unlawful assembly and possession of instruments fit for unlawful purpose.
Chief Superintendent of Police Public Relations Branch (PPRB) Kwok Ka-chuen said what alarmed the police most is that six of the arrested are students and one is a teacher.
"Teachers are supposed to nurture young talents and groom them into future leaders. They certainly should make a clear stand against violence and do all they can to prevent students from continuing with these destructive acts, instead of leading them to do so," Kwok told a press briefing on Monday.
According to Senior Superintendent of PPRB Kong Wing-cheung, since June 9 the police have arrested 6,022 people for offenses including unlawful assembly, participation in riot and possession of offensive weapons.
Among them, 2,393 people or about 40 percent are students, which is a worrying situation, Kong said.
Over the weekend, the police arrested in total 42 people for offenses such as possession of firearm without license, possession of offensive weapons, conspiracy to bodily harm and unlawful assembly.
Among the 42 people, 11 were arrested early Sunday in an operation in which the police seized a large amount of weapons suspected to be used by radicals in a demonstration on Sunday afternoon, including a semi-automated pistol and over 100 bullets.
It is the first time that a handgun has been seized related to Hong Kong's social unrest in recent months.