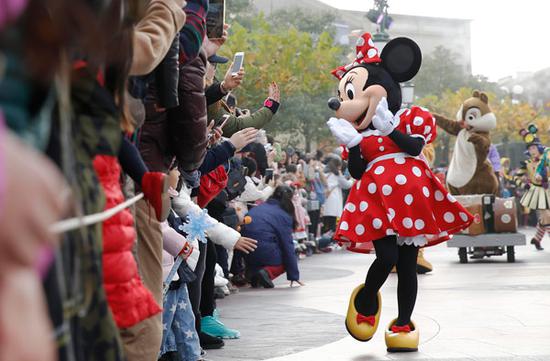 Disney cartoon characters interact with visitors at the Shanghai Disney Resort. [China Daily/Yin Liqin]
Shanghai Disney Resort has changed its ticketing criteria for children, the resort announced on Tuesday.
From Oct 8, children under the age of 3, or who are 1 meter and below in height, will receive free park admission, the resort said in a news release.
In addition, a discount of approximately 25 percent will be provided to children aged 3 to 11 years as well as those who are between 1 meter and 1.4 meters tall.
The current policy only takes into account height, meaning that children taller than 1 meter will not gain free entry even if they are younger than 3.
Shanghai Disney added that the new policy applies to tickets purchased from Sept 9.
The new policies also include benefits for guests aged 11 and under at the resort's two themed hotels-Shanghai Disneyland Hotel and Toy Story Hotel-as well as kids' meals at the resort's restaurants.
The new criteria were generated after the resort was brought to court for asking a 10-year-old to buy an adult ticket in 2018.
Liu Demin, a judge at Guangdong High People's Court, bought a parent-child ticket package online for 499 yuan ($70) before taking his 10-year-old daughter to the resort.
However, he was asked by Disneyland workers to buy an adult ticket for the girl at the ticketing window because she was taller than 1.4 meters. After the visit, Liu brought Shanghai Disney Resort to court, asking the resort to refund his adult ticket and revise its ticketing standards for children to conform with those at Hong Kong Disneyland, which gives preferential children's tickets to those between the ages of 3 and 11 inclusively, and free entry to children under 3.
Parents have long complained about using height as the determining factor for preferential tickets at major tourist attractions. A report by the National Health Commission released in June shows that the median height of 12-year-old Chinese boys and girls exceeds 1.5 meters, the limit at most theme parks.
"The new criteria is a proper response to consumers' concerns on how to protect the interests of children, as the average height of kids whose intake of balanced nutrition is much more than ever before is increasing," said Wang Le, a 37-year-old Shanghai citizen.
While the problem of preferential access rules is settled for the time, some still wonder if the resort would adjust its controversial policy of "no outside food and beverage", which involves bag searches at the entrance.
The resort has banned outside food, alcohol and nonalcoholic beverages over 600 milliliters inside its park since November 2017, over a year after its opening. Tourists are required to eat or discard any food they brought before entering the park, which many regard as a violation of customers' rights.
The resort was sued over the policy in April by a law school student in Shanghai who was forced to throw away snacks worth 46.3 yuan during her visit to the park in January.
The case sparked heated discussions on social media about whether it is reasonable for the world's second-largest Walt Disney park to deny visitors the right to bring their own food. Some argue that the food and beverages supplied within the park are overpriced, making the motivation behind the policy appear dubious.
Many also expressed strong objections to the practice of bag searches at the resort's entrance, which is considered a breach of privacy and personal dignity.
Shanghai Disneyland explained in August that the rule is "consistent with many other theme parks across China" and "guests are welcome to enjoy their own food and beverages outside the park".
The resort said it won't respond further while the verdict in the lawsuit regarding outside food and beverages is pending.