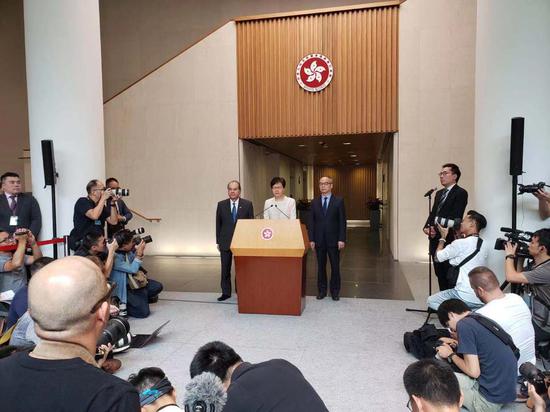 Carrie Lam speaks during a press conference in China's Hong Kong Special Administrative Region, September 5, 2019. /CGTN Photo
Carrie Lam, chief executive of China's Hong Kong Special Administrative Region (HKSAR), insisted on Thursday that she decided to introduce the fugitive bill, then to suspend it and now it is her decision to formally withdraw it.
Lam made the remarks at a press conference a day after making an official announcement to withdraw the bill.
The introduction of the bill triggered social unrest in the city, which entered its third month last weekend. The protests have turned increasingly violent, with radical protesters equipped with knives, metal rods, laser pointers and even petrol bombs, attacking police officers.
'The sole purpose is to break deadlock'
Responding to a question regarding the proposal to withdraw the bill, Lam said the sole purpose is to "break the deadlock" and bring back "Hong Kong's ordinance."
She assured that withdrawal of the bill does not require any voting or debate when it goes through the Legislative Council next month.
Lam also elaborated on the "Four Actions" she proposed on Wednesday, hoping they would help in building the foundation for a dialogue between the SAR government and general public.
Me and my team would set up a dialogue platform and visit communities, hoping to learn about the concerns of Hong Kong residents from all walks of life and find a solution, she said.
Experienced international experts have also been invited to assist on the current impasse.