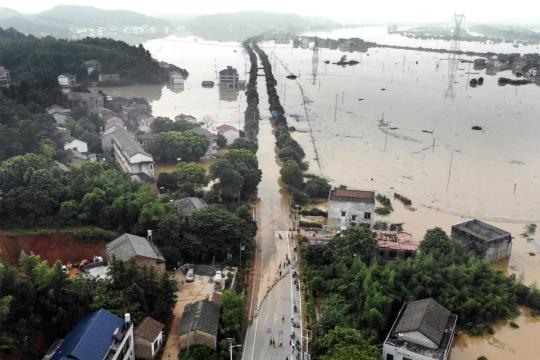 A main road leading to Hengdong county, Hunan province, was submerged by floodwaters on Thursday. The levee of a nearby river had two bursts of about 50 and 30 meters on Wednesday, leaving several villages soaked. (YANG HUAFENG/FOR CHINA DAILY)
As floods hit the reaches of several key rivers in China, the Ministry of Water Resources Thursday issued a yellow alert for floods in 10 provincial-level regions, including Jiangxi, Hunan and Guangxi.
The ministry issued the flood warning for Qinghai, Gansu, Ningxia, Inner Mongolia, Guangxi, Guangdong, Jiangxi, Hunan, Anhui and Jiangsu.
Floods have hit the middle and lower reaches of the Yangtze River, the upper reaches of the Yellow River, and the Xijiang River in the Pearl River basin, according to the Department of Flood and Drought Disaster Prevention of the ministry.
Recent rainfall triggered two heavy floods in the upper reaches of the Yellow River. Meanwhile, the current flow in the Lanzhou section of the main stream has exceeded the warning level.
Twenty-two people have been killed and over seven million people affected by heavy rain that has brought floods in east China's Jiangxi Province since June, local authorities said Thursday. The floods have forced the evacuation of over 594,000 people and affected about 469,300 hectares of crops, causing direct economic losses of 15.9 billion yuan (2.3 billion U.S. dollars), local authorities said at a press conference.