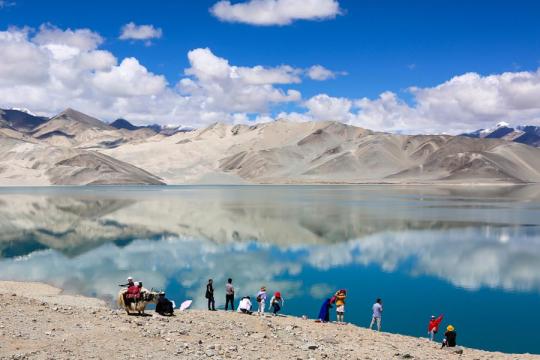 Tourists enjoy views of Baisha Lake, surrounded by snow-covered mountains on the Pamir Plateau in Akto county, Xinjiang Uygur autonomous region. (Photo/Xinhua)
A letter issued by 22 countries criticizing human rights conditions in the Xinjiang Uygur autonomous region ignores the truth and makes groundless accusations and attempts to smear China, Beijing said on Thursday.
The countries, including Britain, France and Germany, addressed the letter, dated July 8, 2019, to the president of the United Nations Human Rights Council and the UN high commissioner for human rights.
China is strongly dissatisfied and firmly opposed to the letter, and has lodged solemn representations to the countries, Foreign Ministry spokesman Geng Shuang said.
The countries have openly politicized human rights issues and brutally interfered in China's domestic affairs, he said.
"We urge these countries to respect facts, give up their biases, observe the purposes and principles of the UN Charter, and stop politicizing human rights issues and using Xinjiang-related issues to interfere in China's domestic affairs," Geng said in a daily news conference.
Xinjiang's affairs are purely China's domestic affairs and concern China's sovereignty, security and territorial integrity, and China's government and people are best qualified to speak on Xinjiang-related issues, in which no countries or foreign forces are allowed to interfere, he said.
The autonomous region, facing serious threats from terrorism and extremism, has rehabilitated extremists and taken a series of anti-terrorist measures, according to law, such as setting up vocational education and training centers, Geng said.
These measures have transformed security in the region, which has seen no violent terrorist incidents for nearly three years.
"China has invited diplomats, media and experts and scholars from various countries to visit Xinjiang and see the truth for themselves. They said what they saw and heard in Xinjiang was totally different from what Western media have reported," Geng said, adding that China has also invited officials of the UN Office of the High Commissioner for Human Rights.
Vladimir Voronkov, under-secretary-general of the UN Counter-Terrorism Office, visited Xinjiang in June.
China welcomes those who uphold the principle of objectivity and fairness to the autonomous region, but is firmly against any foreign interference in China's domestic affairs under the pretext of Xinjiang-related issues, Geng said.