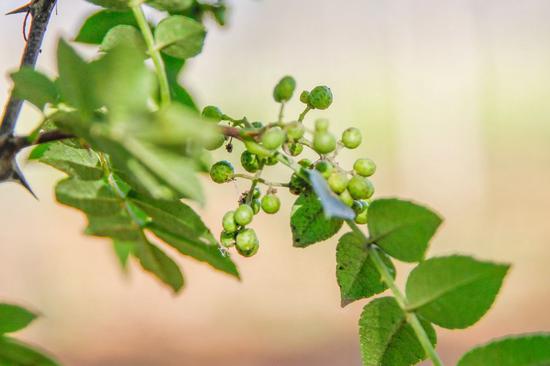 Zanthoxylum bungeanum Maxim. or Sichuan peppers. (Photo/CGTN)
Just an hour's drive south from downtown Xi'an lies an extraordinary farmland. At first glance, its crops, flowers, and saplings seem ordinary. Only the informed would know that these seeds were nurtured in space.
Guo Rui, director of Yangling Seeds Corporation, leads a state-funded space breeding center founded in August 2018 in China's northwestern province of Shaanxi. The center's mission is to cultivate high-quality crop and tree seeds to curb the expansion of the Gobi Desert.
"Within the next three to five years, we plan to cultivate 22 crop and tree species for the Three-North Shelter Forest Program," Guo told CGTN. Also known as the "Green Great Wall," the program aims to build a 4,500-kilometer-long forest belt along the northern parts of China by 2050. The next satellite, carrying seeds into orbit, is set to be launched within a year.
Extraterrestrial conditions such as high radiation, low temperature, and zero gravity enable the production of seed variations that are superior in both quality and output, Guo explained.
Space breeding involves sending seeds attached to a satellite into orbit for a few days. Then upon their return to Earth, mutated seeds are selected, based on favorable genetic traits, ranging from resistance to extreme weather to extra nutrients, and planted.
"The cultivation period of such high-quality seeds is reduced from eight years to four years," Guo added.
Space breeding, however, is costly. Each launch of a satellite amounts to hundreds of millions of yuan. Accordingly, while trying to lower the cost itself, Chinese scientists are also striving to better understand the mutations that occur in space.
"By figuring out how seeds mutate and result in superior qualities, we hope to create ground-based simulations of the extraterrestrial environment," explained Professor Wen Xianfang of the Chinese Academy of Agricultural Sciences.
In the past three decades, more than 6,000 seeds have been sent into space, resulting in some 230 species ranging from crops to Chinese medicinal herbs. Recent breeds include "Zanthoxylum bungeanum Maxim." – more simply known as Sichuan pepper – which are more resistant to pests and shorter in height, making them easier for harvesting. By next year, the peppers will be ready for public consumption.
For China's interplanetary initiatives designed to ensure both food and land security, the sky could literally be the limit.