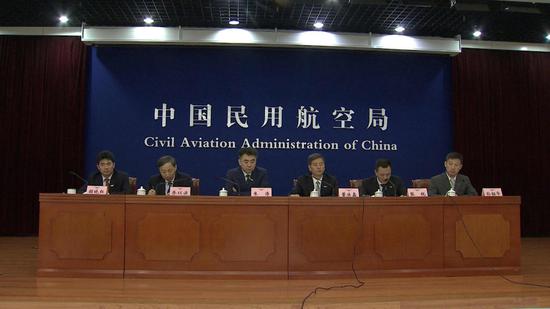 The CAAC held a press conference on Thursday. (CGTN Photo)
The Civil Aviation Administration of China (CAAC) expressed its concern over recent reports of faulty parts in Boeing airliners. According to the U.S. airplane maker, a flaw was found in the leading-edge slat tracks of some of its 737 Max and 737 NG models. In a press conference held in Beijing on Thursday, CAAC stressed that safety issues must be solved.
"For 737 NG airliners, we have asked domestic airlines to check, report, replace and return the affected leading-edge slat tracks within the time required. For 737 Max, we are aware that Boeing is drafting related service reports. The CAAC will pay close attention to the subsequent measures from the Federal Aviation Administration (FAA) and Boeing. All safety issues must be solved before the planes are allowed to restore service," said Guo Xiaohong, deputy director of the department of general Affairs at CAAC.
The CAAC also released more details on China's plan to boost the development of intelligent airports, by making the Beijing Daxing International Airport an example.
"The Beijing Daxing International airport has adopted various new smart technologies," said Zhang Rui, deputy director of the airport department at CAAC.
To further illustrate that, he named several examples. "The usage of self check-in facilities is expected to reach 86 percent. The usage of luggage check-in facilities is expected to reach 76 percent. All security check channels will adopt facial recognition technology. The airport also adopted an RFID luggage tracking system, which could allow passengers to track their luggage through apps on cellphones."
It has also adopted advance technologies such as big data and 5G network. The airport will open in September this year.