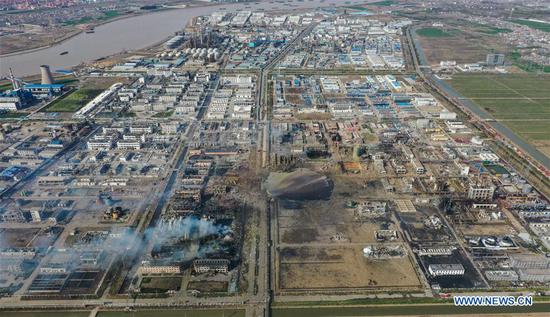 Aerial photo taken on March 22, 2019 shows the site of an explosion at a chemical industrial park in Xiangshui County of Yancheng, east China's Jiangsu Province. (Xinhua/Li Bo)
Three people have been put under criminal coercive measures for the deadly chemical plant blast that killed 78 people in east China's Jiangsu Province in March, the local government announced on Wednesday.
The blast occurred on March 21 at a chemical facility named Jiangsu Tianyin Chemical Co., Ltd. in Chenjiagang Industrial Park, Yancheng City.
According to the statement released by the municipal government, three suspects, who worked for the company, were responsible for the negligence and will be fully investigated.
In China, criminal coercive measures may include summons by force, bail, residential surveillance, detention or arrest.