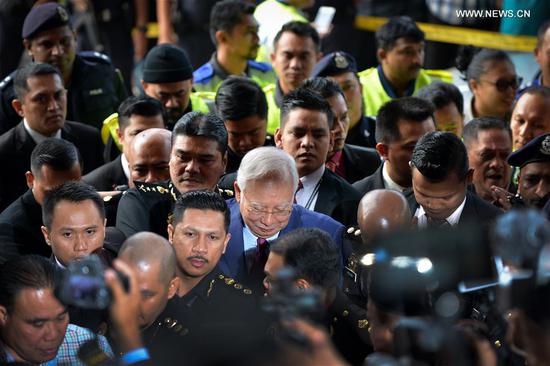 File Photo: Former Malaysian Prime Minister Najib Razak (C) arrives at a court in Kuala Lumpur, Malaysia, on July 4, 2018. (Xinhua/Chong Voon Chung)
A Malaysian court is set to start hearings Wednesday on the corruption charges on former Prime Minister Najib Razak following previous delays.
Wednesday's hearing at the high court is on the seven charges including criminal breach of trust, money laundering and abuse of power involving 42 million ringgit (10.3 million U.S. dollars) deposited into Najib's personal bank account from SRC International, a former unit of state investment fund 1Malaysia Development Berhad (1MDB).
The hearing is set to start in the afternoon, but the media are already gathering at the court from the morning.
The trial date was set following the decision by the Federal Court last week to lift the stay of proceedings order granted by the Court of Appeal to Najib, which he filed on in February.
The trial proceeded despite his legal team filing an application for a judicial review against the Federal Court's decision to lift the stay of proceedings order on Tuesday.
The trial of the SRC case was initially slated to start in February but was put on hold after the Court of Appeal granted a stay of proceedings pending related appeals.
Najib has been slapped with more than 40 charges related to corruption involving billions of dollars.
His Barisan Nasional (BN) coalition lost the general elections last May.