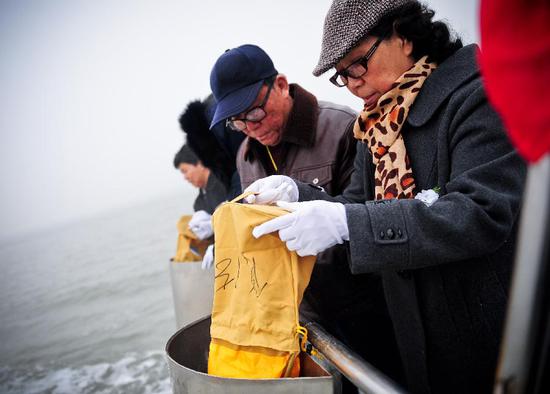 File photo: Citizens scatter the ashes of their deceased relatives in the sea at a sea burial in Tianjin, North China, March 31, 2013. (Photo/Xinhua)
The number of people choosing a sea burial for their deceased family members has been rising over the past 28 years in Shanghai, according to the regional civil affairs bureau.
The city's annual public memorial day for those buried at sea was held by the bureau in Binhai Guyuan (Seaside Old Garden) in Fengxian district on March 16, ahead of the Qingming Festival, or Tomb-Sweeping Day, which falls on April 5 this year.
A news release from the bureau said that the ashes of 44,652 Shanghai residents have been scattered at sea since the city started sea burials in 1991.
Wang Yan, a manager from Feisi, the main operator of the city's sea burial services, was quoted by regional news portal Eastday.com as saying that there were 4,132 people buried at sea in 2018. She expected the number to rise to 4,500 this year.
Feisi provides free rides for up to six family members to attend the funeral on a ferry in the designated sea burial area near Changxing Island in the mouth of Yangtze River to the East China Sea.
Sea burials, which are provided free of charge, now account for around 3 percent for all the funerals in Shanghai.
The city has over the past decades been promoting sea burials because of its limited land space. It currently provides a subsidy of 4,600 yuan ($685) for each family that chooses sea burial – 3,000 yuan for the family and 1,600 yuan for the company to cover the expense. The subsidy was only worth 150 yuan in 1999.
Qiao Kuanyuan, a professor at the University of Shanghai for Science and Technology and a committee member of the China Funeral Association, told Shanghai-based news outlet The Paper that 24.7 percent of respondents in a 2017 survey accepted sea burials, up from just 4 percent in 2003.