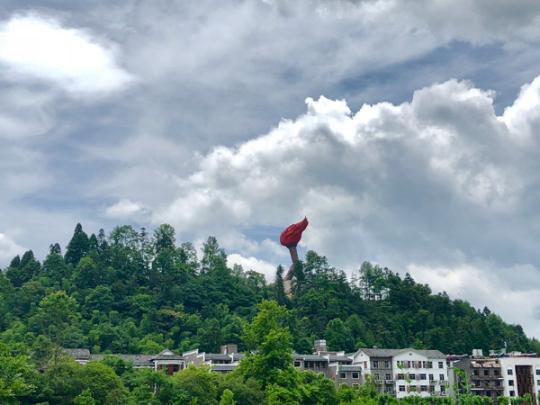 Located on the border of Jiangxi and Hunan provinces, the Jinggang Mountain attracts numerous Chinese tourists due to its historical significance as a revolutionary base and picturesque views. (Photo provided to China Daily)
China has unveiled the first list of 15 areas for the protection and utilization of cultural heritage of revolutionary memorial significance, according to a press conference held by the State Council Information Office (SCIO) on Tuesday morning.
The areas, spanning 645 counties and 110 cities in 20 provinces, autonomous regions and municipalities directly under the central government, includes renowned historical sites such as the Jinggang Mountains, known as the "cradle of the Chinese revolution," in eastern China's Jiangxi Province.
The 15 areas on the first list include 13 areas designated based on revolutionary base areas during the Agrarian Revolutionary War period and two areas designated based on the Shanxi-Hebei-Henan anti-Japanese revolutionary base area where the headquarters of the Eighth Route Army was based, and the northern Jiangsu anti-Japanese revolutionary base area where the headquarters of the New Fourth Army was based during the anti-Japanese war period.
Among them are Jinggang Mountains, the former Central Soviet Area, western part of Hunan-Hubei area and southern Haifeng-Lufeng area.
The move comes after a guideline was issued last year to better protect revolutionary cultural heritage.
"Our next step," said Gu Yucai, Deputy Director of the State Administration of Cultural Heritage (SACH), at the press conference, "(is) to fully practice the protection of revolutionary heritage, promote the revolutionary spirit, well-inherit the 'red gene' and the revolutionary culture."
According to statistics, there are nearly 35,000 sites and monuments and over one million pieces/sets of movable cultural property that bear revolutionary memorial importance and some 800 museums and memorial halls that feature revolutionary themes nationwide.
Conservation efforts for cultural heritage of revolutionary memorial significance have been sped up. Presentation and utilization of the cultural heritage have also been significantly improved.
The First Nationwide Survey of Movable Cultural Heritage provides basic information and data about cultural objects of revolutionary memorial significance in the collection of state-owned museums.
A total 281 revolutionary sites and memorial museums have been proclaimed as national model bases for patriotism education. Revolutionary heritage tourism has flourished throughout the country. Annual visitations to attractions of revolutionary heritage nationwide have registered over 800 million.
(With input from Xinhua)