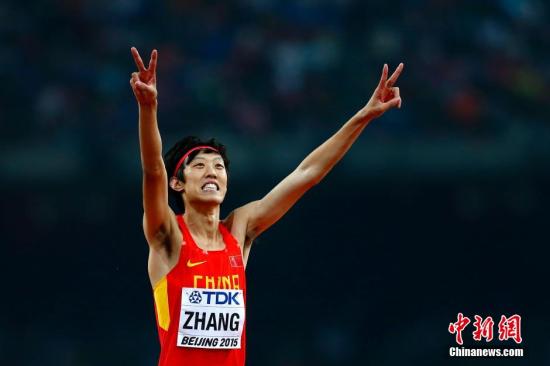 File photo of Zhang Guowei. (Photo: China News Service/Fu Tian)
China have sent a warning to elite athletes in the national team about their off-the-field conduct after the country's star high jumper Zhang Guowei was suspended from all domestic and international competitions for violations of team rules.
The Chinese Athletics Association (CAA) said in an internal letter that the 27-year-old, who won a silver medal at the 2015 World Championships, attended two commercial events with fabricated reasons, without approval from the authorities.
While specifying the length of the suspension, the CAA urged all athletes to learn a lesson from Zhang's mistakes and focus on their preparation for this year's IAAF World Championships in Doha and the 2020 Tokyo Olympics.
"For many local athletes, the temptation [to make money] is increasingly high in the flourishing sports market in China," said Dong Rina, a track and field reporter with China Central Television (CCTV).
"But venturing into commercial activities without permission is a highly risky move. The punishment for Zhang is just a warning to alert other members of the national team," Dong added.
Despite being a fan favorite for his easygoing persona and flamboyant celebrations, Zhang has been besieged by injuries in recent years and has yet found his best form. And he insisted he wanted to rectify his mistake and do his best to put on a brave face.
"After communicating with CAA officials, I deeply felt their care, concerns, and expectations," said Zhang via Weibo. "They also expressed their understanding and tolerance towards my behavior."
He claimed he "is still fighting on the frontline of the national team" and will "take the responsibility and do whatever it takes to realize my dream."