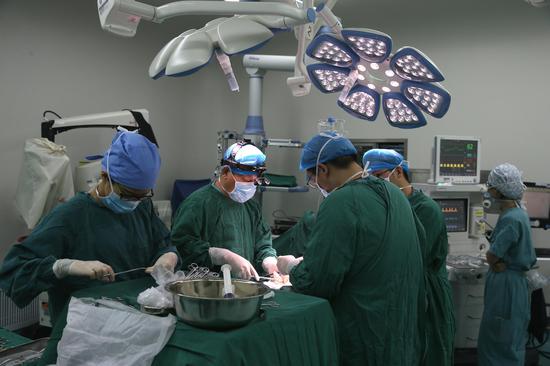 Medical staff conduct a kidney transplantation surgery for an organ recipient in Hefei, capital of east China's Anhui Province, Aug. 22, 2018. (Xinhua/Huang Xin)
More than 992,000 voluntary organ donors have registered across China, official figures showed Thursday.
The number was released at the 2019 Chinese Organ Procurement Organization Congress, held in the city of Wuhan, capital of central China's Hubei Province. More than 300 experts and academics from home and abroad attended the conference.
Zhao Hongtao, deputy secretary general of the China Organ Transplant Development Foundation, said the rapid growth of registered organ donors could be attributed to the rise in people's awareness of organ donation.
Zhao, also director of a major voluntary organ donor registry system in China, said he believed that the number of registered organ donors would see a significant increase in the near future.
By the end of last year, China has recorded 21,000 cases of posthumous organ donation, with over 58,000 vital organs donated, according to the National Health Commission.
In 2018 alone, the country had more than 6,300 posthumous organ donation cases and nearly 18,000 vital organs were donated, an increase of 22 percent year on year.
China began a voluntary organ donation trial in 2010 and promoted the practice across the country in 2013. About 300,000 patients need organ transplants each year in China.