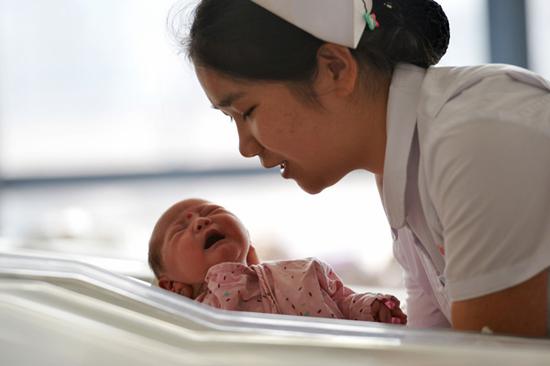 A nurse takes care of a newborn baby at Gansu Provincial Maternity and Childcare Hospital in Lanzhou. (Photo/Xinhua)
At 29, Dong Shuo is not in any hurry to get married and start a family.
The marketing executive at a tech company said he is not dating now and is preparing to study abroad.
Unlike their parents' generation, a growing number of young Chinese professionals like Dong do not have marriage and children at the top of their priority lists.
Dong said his parents are not too worried about it. Even though the dreaded age of 30 is not considered a disaster for single men as it is for single women in China, Dong said he felt it might be the last chance to do the things he always wanted to do before settling down.
"I think marriage is great, and children are important in our lives. But it comes with responsibilities. It means you can't act immature anymore," he said.
Demographic 'crisis' looming
The trend of China's one-child generation delaying marriage and child birth is well reflected by statistics.
China's population growth hit a historic low in 2018, two years after the country scrapped its decades-long one-child policy, according to official data.
A new green paper published earlier this month acknowledged a looming "demographic crisis," and forecast a negative population growth to begin around 2030.
Although the demographic dividend of the world's most populous country has not run out yet, China's population is aging faster than those in the rest of the world, including Europe and Japan. This presents a number of challenges for the economy.
"The population dividend has been crucial to China's economic development. A shrinking labor force means paying into the pension program will be a problem, and there won't be enough young people to support the elderly. That's unsustainable for the economy in the long run," said Professor Lu Jiehua at Peking University, the vice president of the China Population Association.
"A country full of old people will lose its innovative edge and cultural vitality. All of that is going to have an adverse effect on the economy," Lu said.
The "comprehensive two-child policy" allowing all Chinese couples to have two children saw a brief boost in new births the year after it took effect. But as it turned out, the relaxed policy produced far fewer babies than policy makers had expected.
Dong said he wants to have a child eventually but will not be swayed by any policy change.
Others, including many married couples, worry about the impact having children will have on their quality of life.
35-year-old English teacher Du Lan had her son in 2011, and has decided that she will not have a second child. Du said she didn't want her personal life to be squeezed further, as one child was already a handful.
"Another child would mean I can't do anything with my life for another three to four years," Du said. "I don't want my life to just revolve around children."
"It's like you are back to square one."
Women opting out
China has one of the highest labor force participation rates for women at 63 percent, according to the World Bank. Women in China contribute some 41 percent to the country's GDP, more than their counterparts in any other country, including those in North America.
While the economic realities have changed, the cultural expectations for Chinese women have largely remained the same. This means most married women have to juggle a full-time job and the traditional role of being a wife and mother. To make things worse, many companies tend to favor male candidates when hiring, as women of childbearing age are viewed by employers as a liability.
Feeling underappreciated at home and discriminated in the job market, educated Chinese women are increasingly putting marriage and motherhood on hold, or opting out altogether. Others are faced with the dilemma of choosing between family and career.
Ashley and her husband both work in the demanding financial industry. Now well into her thirties, she admitted that she's been too busy to think about having children.
"Before 30 I worked overtime almost every day, often till 10 p.m. or midnight. Having kids was out of the question," Ashley said.
"They don't like it if you get pregnant," she said, referring to a number of investment banks she has worked for where jobs are highly coveted. "There is too much competition, especially from younger colleagues. These are hard times. I could lose my job if I can't keep up."
Her hard work has paid off in other areas of life. When they are not putting in long hours at the office, the couple likes to splurge on exotic vacations.
"If we had a baby, we wouldn't be able to travel as much as we like. We enjoy our freedom," she said.
Census data from the National Bureau of Statistics shows China will face a 44 percent drop in women capable of childbearing in the next decade, thanks to a traditional preference for boys over girls in the country during the decades of the one-child policy. Meanwhile, the number of single women over the age of 30 exploded from less than 500,000 in 1990 to nearly six million in 2015, a trend that's likely to continue. All signs are pointing to a further plunge in birth rates down the road.