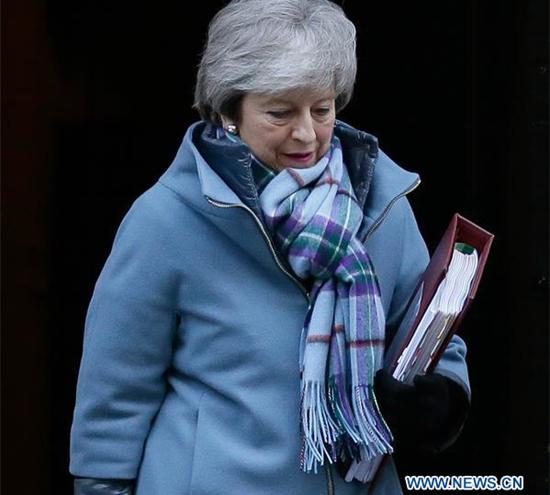 British Prime Minister Theresa May leaves 10 Downing Street for Prime Minister's Questions in the House of Commons in London, Britain, on Jan. 30, 2019. (Xinhua/Tim Ireland)
Multiple options for Brexit still remain a possibility after British Prime Minister Theresa May has been given the backing of the House of Commons to renegotiate her European Union (EU) Withdrawal Agreement.
May won a slim majority in the House of Commons in a series of votes Tuesday evening, which saw Members of Parliament (MPs) signal their support for the prime minister to return to Brussels and to renegotiate the Withdrawal Agreement rejected by MPs earlier this month.
"MPs decided they want May and the EU to change the Irish Backstop," Alan Wager, fellow at the independent think-tank UK in a Changing Europe, told Xinhua in an exclusive interview.
"They say that leaves Britain tied too closely to the EU, and also following its rule; they want to make the UK less bound to EU rules," said Wager.
The Withdrawal Agreement contains a Northern Ireland Backstop, which seeks to preserve the open border between the two nations.
"What May's MPs want is something that says the EU and Britain are not locked into this agreement on the Northern Irish border indefinitely," Wager explained.
"The EU are really reluctant to give way on this point -- but someone is going to have to give on this: either the EU or the British government."
The stumbling block of the Irish Backstop over the border issue is one that has already derailed May's Withdrawal Agreement and it could do so again.
But first, May must persuade EU leaders to reopen negotiations. Brussels, however, is very reluctant to reopen the Agreement they have already made with May.
European Council president Donald Tusk said shortly after the vote on Tuesday night that set May on the path to renegotiate the Withdrawal Agreement that it was "not open for re-negotiation".
Michel Barnier, EU's chief negotiator on Brexit, said on Wednesday that "we stand by the agreement we have negotiated with the UK."
And European Commission president Jean-Claude Juncker also said on Wednesday that the Withdrawal Agreement was "the only deal, and the best possible deal."
Wager believed that May would find it hard to solve the conundrum of pleasing her MPs with concessions from the EU when the EU's leaders seem adamant that they are not for turning.
"So it looks like although May has now a majority in parliament, something she was lacking a couple of weeks ago, she now needs to go back to the EU and reopen those negotiations -- she will find it very difficult to get a compromise that will be supported by the EU and by her own MPs," Wager said.