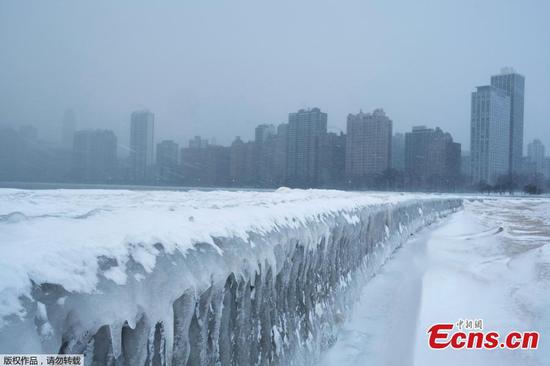 Icicles form on the walkway at North Avenue Beach of Lake Michigan in Chicago, Illinois, U.S., January 29, 2019. (Photo/Agencies)
Chicago's record for coldest temperature was shattered on Wednesday as the polar vortex struck the biggest city in the U.S. Midwest, according to the National Weather Service (NWS).
Around 4 a.m. on Wednesday, the temperature hit 19 below zero degrees Fahrenheit (minus 28 degrees Celsius) in the city, which broke the previous record for daily low temperature at minus 15 degrees (minus 26 degrees Celsius) in 1966, according to NWS.
The temperatures are still dropping. By 7 a.m., temperatures were down to minus 23 degrees Fahrenheit (minus 30 degrees Celsius) at O'Hare International Airport, according to NWS.
By Wednesday morning, about 19,000 customers were left without power as crews scrambled to restore service, said John Schoen, spokesperson for the city's largest electric utility ComEd company.
The outages began overnight and strong winds moving through the area overnight could have hit some of the company's power lines, Schoen said.
The U.S. Postal Service and passenger railroad service Amtrak suspended service, and schools in Chicago will be closed through Thursday.
Chicago Public Schools canceled all classes and activities that were scheduled for Wednesday and Thursday. Most schools and some churches and other institutions have been listing closings on the Emergency Closing Center website.
At Chicago airports, more than 1,300 flights were cancelled as of 6 a.m. Wednesday, according to the city's aviation department. Those heading to the airport Wednesday morning should expect delays of more than 15 minutes.
After about 1,400 flights were cancelled Monday at Chicago airports because of snowstorms, about 600 were cancelled Tuesday.