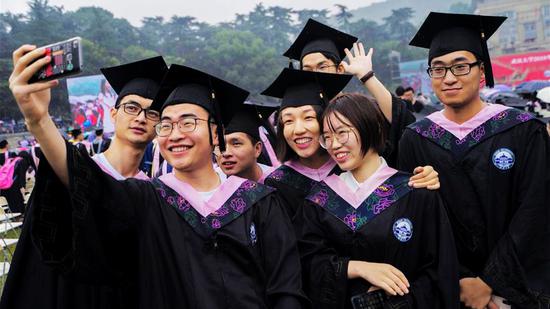 Graduates pose for photos at the 2018 commencement ceremony of Wuhan University in Wuhan, capital of Central China's Hubei province, June 22, 2018. /Xinhua Photo
Beijing's increasing cost of living is pushing a large number of young graduates to leave for other first-tier cities such as Shanghai and Guangzhou despite the Chinese capital retaining its position as the most attractive city for Chinese graduates, the National Business Daily reported citing the the annual graduate employment report from the C9 League, an alliance of nine top universities in Chinese mainland.
While Shenzhen and Shanghai ranked second and third among the top destination for Chinese graduates; new first-tier cities such as Wuhan and Chengdu have emerged as magnetic hubs in attracting talents, according to the report. The C9 League report showed that 40.18 percent of college graduates chose to work in new first-tier cities, an increase of 2.68 percent over the previous year.
Also known as the Chinese Ivy League, C9 includes Tsinghua University, Peking University, Fudan University, Harbin Institute of Technology, Nanjing University, Shanghai Jiao Tong University, University of Science and Technology of China, Xi'an Jiaotong University, and Zhejiang University.
The report concluded that a vast majority of graduates from Beijing no longer prefer to work in the city and look for options elsewhere.
The C9 League data showed an incremental drop in the proportion of Peking University graduates opting to work in Beijing over the past three years, with only 39.47 percent remaining in the city in 2018 while 60.53 percent moving to other cities. That's a steep drop from 2016 when 46.2 percent of graduates remained in Beijing. In 2017, that came down to 41.68 percent.
Figures from Tsinghua University showed a similar decline. Last year, the proportion of undergraduate, postgraduate and doctoral students choosing to work in Beijing fell to 17.3 percent, 39.9 percent, and 49.7 percent respectively, from 20.3 percent, 47.7 percent and 50.4 percent in 2016.
"On one hand, the high cost of living, conditions and traffic congestion factors are affecting university graduates' choices. On the other hand, it means other cities including first-tier cities such as Shanghai and Guangzhou, and even some new first-tier cities have more opportunities," Li Qiang, a senior career consultant at the online recruitment platform Zhaopin.com, was quoted as saying by China Daily.
Shanghai, on the contrary, is able to retain over half the graduates passing out from Fudan University and Shanghai Jiao Tong University. The proportion of Fudan University graduates choosing to work in Shanghai is noticeably high at 73.86 percent.
The report also ranked the financial sector as the most attractive industry for university graduates with 23.44 percent choosing to work in this field, which complements Shanghai's position as an international financial hub.
Remarkably, South China's Guangdong Province, particularly the cities of Shenzhen and Guangzhou, has been luring an increasing number of C9 League graduates in recent years. For instance, in 2018, 21.94 percent of Peking University graduates moved to Guangdong for work compared to a mere 18.58 percent in 2016.
A total of 472 graduates chose to work in Shenzhen, which ranked as the second most attractive destination for Chinese graduates just behind Beijing.
In addition, new first-tier cities such as Wuhan and Chengdu are becoming increasingly popular, the report showed.